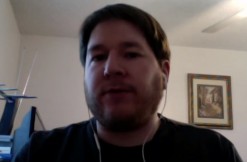 Journalist Matthew Keys was sentenced to two years in federal prison Wednesday by a California judge after prosecutors allege he plotted with a member of the hacker group Anonymous to change the wording of a Los Angeles Times story, The Sacramento Bee reports. He was convicted in October 2015.
It was all allegedly part of a vindictive online harassment spree after he was canned in October 2010 by local Fox affiliate KTXL. According to Assistant U.S. Attorney Matthew Segal, Keys stole a list of e-mail addresses and credit numbers belonging to station viewers. Hiding behind a proxy server, he allegedly engaged in a harassment campaign against viewers and former coworkers.
Things apparently escalated in December 2010 when Keys approached a member of the hacker group Anonymous in a chat room, prosecutors say. His alleged next target: The Tribune Company (now known as Tribune Publishing after a corporate spin-off), which owned the Los Angeles Times and KTXL. He reportedly supplied log-in info to the company's computer system, which an Anonymous hacker used to change the wording of a Times article. He altered the headline on a story to "Pressure builds in House to elect CHIPPY 1337," and the subheadline to "House Democratic leader Steny Hoyer sees 'very good things' in the deal, which will see uber skid Chippy 1337 take his rightful place as head of the Senate, reluctant House Democrats told to SUCK IT UP."
Segal claims Keys planned on extending the plot to other Tribune media properties. The man was dangerous, he told the judge, because "his malicious purpose was to cause as much harm to as many people as possible. It was not a prank, it was a campaign of vengeance."
"He not a journalist, he's a terrorist," wrote former KTXL director Brandon Mercer in a letter addressed to Kimberly J. Mueller, the U.S. District Judge presiding over the case. It was entered into the record after being read by Segal in court.
Jason Leiderman, Keys' attorney, downplayed the allegations, saying his client was an "immature 22." Keys, he said, worked hard, and journalism was the defining passion of his life. Plus he claimed that the prosecutors were overreaching, basing their case on the Computer Fraud and Abuse Act of 1986.
"The CFAA is a horse-and-buggy law in a jet-plane society," Leiderman said in court. "It doesn't take into account the Internet." He claimed the Anonymous hacker, who lives in Scotland, was only let off with a warning from local authorities.
Keys is scheduled to surrender to authorities and start his prison term on June 15. Leiderman told reporters after the hearing that he and co-counsel Tom Ekeland will fight the sentence with an appeal to the 9th U.S. Circuit Court of Appeals.
[screengrab via TheLipTV]
–
Follow Alberto Luperon on Twitter (@Alberto Luperon)
Have a tip we should know? [email protected]