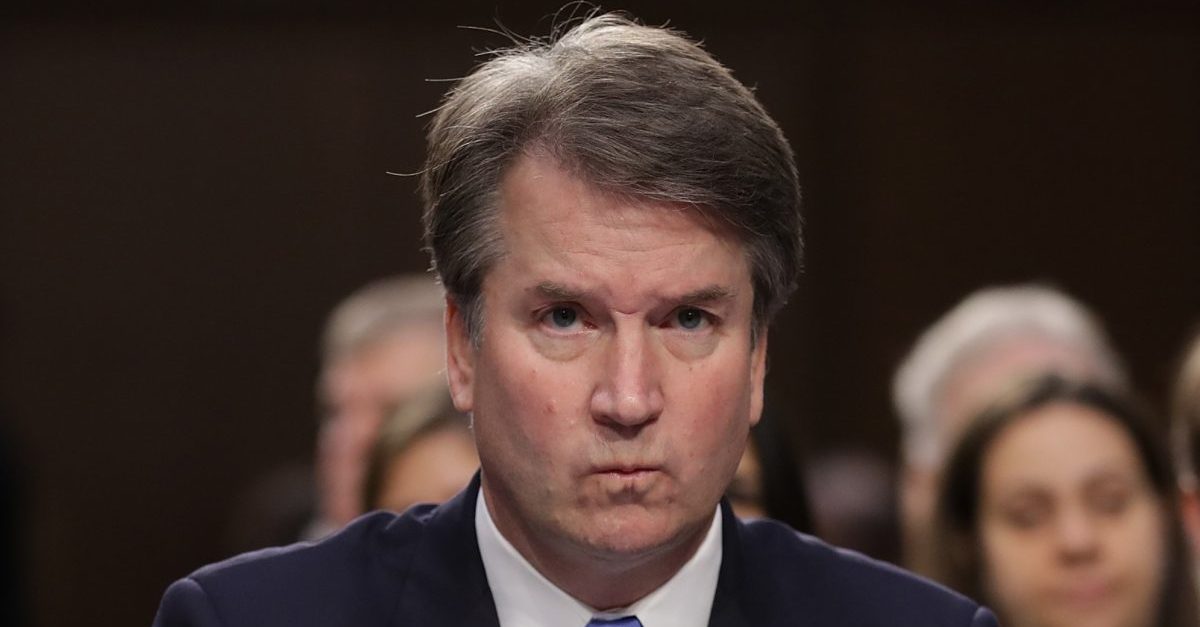 A scurrilous and false rumor made its way across the internet this morning regarding the parents of Professor Christine Blasey Ford, the woman who accused Supreme Court nominee Brett Kavanaugh of attempting to rape her at a house party in Maryland when she was 15-years-old.
At 9:54 a.m., Fox News Channel's Laura Ingraham tweeted the following about Ford's parents:
Accuser Christine Ford's PARENTS Were Defendants in a 1996 Foreclosure Case, Presided Over by Kavanaugh's Mother https://t.co/P2DcJ8nvmK

— Laura Ingraham (@IngrahamAngle) September 17, 2018
Ingraham's post linked to story published by America First Media Group (AFMG), a pro-Trump outlet founded by conservative podcaster and Republican Party official Matt Couch.
The story itself was confined to a series of speculative tweets written by a pro-Trump Twitter user and two screenshots from Maryland's case search website. Aside from the speculation, there wasn't very much to go on. The screenshots were indeed from a case involving Professor Ford's parents but that's about it–the entire case ultimately amounted to nothing at all.
Those screenshots make note of a property case involving Ralph Blasey and Paula Blasey–Christine Blasey Ford's parents–and a bank. Judge Martha G. Kavanaugh is listed as the "Ruling Judge," in the matter on two separate occasions. Martha Kavanaugh, of course, is Brett Kavanaugh's mother.
The Kavanaugh-Blasey connection immediately set off conspiratorial alarm bells and flashing red sirens across the paucity of truth that passes for most of right-wing Twitter. Conservative media figures were quick to run with the story that Christine Blasey Ford was operating with some sort of a revenge motive for Brett Kavanaugh's mother having taken her family home away from her–or something like that.
Of course, none of that ever actually happened.
There was no foreclosure on the Blasey household. CBS News' Steven Portnoy noted:
CBSNews went to Montgomery Co Court today to look into Blasey's parents' 1996 foreclosure. The Blaseys settled w/their lender. The bank asked Judge Martha Kavanaugh to dismiss the case. She did. The Blaseys kept the house. There's no record they appeared in her courtroom.
But the story had legs. Even our sister publication Mediaite's Caleb Howe ran with the following headline (which has since been modified): "Brett Kavanaugh's Mother Presided Over Foreclosure Hearing Involving Accuser's Parents."
How did this obvious smear of the accuser's name happen?  Let's take a look.
The word "foreclosure" appears exactly twice in the screenshots cited to support the false, revenge-tinged story line–as an "Issue" and "Sub Type" in the proceedings. But the timeline here is extremely important for those actually concerned with the truth and the facts of the case itself.
As noted, "foreclosure" is only mentioned twice in the images used to support the fake revenge theory. When was that word used? In the summary dated "08/08/1996"–presumably when the case was first filed or legally noticed to all the parties involved.
The word "foreclosure" never shows up again in the electronic docket–not on any of the subsequent document filings and never once where Kavanaugh's mother is mentioned. Here's what those screenshots from Maryland's case search site actually do say regarding Mrs. Kavanaugh.
One document filing–dated "01/27/1997" and singled out as a smoking gun in the AFMG–story reads:
Plaintiff's voluntary motion to dismiss and for return of bond filed.
A second filing–dated "02/04/1997" and also singled out–reads:
Order of Court (Kavanaugh J./Rice, M.) that the voluntary motion to dismiss is hereby granted with prejudice and that the bond filed by Harry J. Kelly as trustee shall be released and returned filed. (Copies mailed ( [sic]
Taken together, it's pretty easy to see what occurred here. The matter was dismissed–and this was initiated by the bank itself. Foreclosure is a judicial remedy under the worst circumstances for a homeowner. There never was a foreclosure hearing of any kind and certainly no foreclosure ruling.
What was this really? An out of court settlement. Or, in other words, nothing at all.
This false foreclosure narrative seems to be the whole cloth creation or misunderstanding of the Twitter user cited as the major source for the original story.
Verdict: Over 9000 Pinnochios.
[image via Chip Somodevilla/Getty Images]
Follow Colin Kalmbacher on Twitter: @colinkalmbacher
This is an opinion piece. The views expressed in this article are those of just the author.