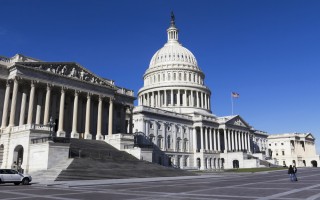 The lobbying industry may start arguing for its own bailout bill, given the relentless decline in reported spending for its services.
The first quarter of 2016 was sluggish, the second similarly so. And with it came a pronounced dive in the number of active registered lobbyists.
With 325 fewer lobbyists registered in the second quarter of 2016 than in the first, this marks the biggest single-quarter drop in four years and puts the number of registered lobbyists at the lowest point OpenSecrets has ever recorded. Since 1998, the total number of lobbyists had never dipped below 10,000, but that figure has been falling ever since it peaked at nearly 15,000 in 2007 and this quarter's decrease puts it at just more than 9,700.
Several factors could be behind the drop, including the set of policies designed to curb lobbying put in place by President Obama, or gridlock in Congress. The most likely scenario, however, isn't that there are fewer people engaging in lobbying work — it's simply that there are fewer people registering as lobbyists. It isn't uncommon for individuals to maneuver around the reporting thresholds and continue lobbying "part-time" — a practice sometimes referred to as "shadow lobbying."
Maybe that bailout bill isn't needed, after all.
"Pure and simple, the trend continues to be that people aren't considering themselves lobbyists," said Paul Miller, president of the National Institute of Lobbying and Ethics, a trade group. "Some of that is retirement — a small number, I think — but for the most part, people are unregistering and not calling themselves lobbyists."
Now, more and more people are deciding that they don't meet the registration threshold triggered by the law when individuals spend more than 20 percent of their time lobbying.
"This profession has changed dramatically in the last five years," said Miller, of the lobbying firm Miller/Wenhold Capitol Strategies. "You have a whole lot of people having an impact on public policy not registering [as lobbyists] because of the definition." Miller's group even discusses that in its vision statement.
Logically enough, the drop in registered lobbyists is accompanied by a drop in reported lobbying spending.
From April through June, lobbying outlays decreased to just more than $779 million, compared to almost $824 million spent in the first quarter of this year. While a drop in lobbying expenditures between the first and second quarter is normal, the figure also represents a marked drop over the spending seen in the second quarter of 2015 — a 5 percent decrease from last year's $821 million.
This quarter's number puts the year's spending to date at just more than $1.6 billion, down from $1.65 billion at this point last year, which marks a drop of 3 percent.
If lobbying this year follows past quarter-to-quarter spending trends, our projection puts 2016's total lobbying spending at about 3.1 billion, also about 3 percent less than 2015.
Still, while lobbying spending overall is down, some industries are still dumping major cash into their lobbying efforts.
The lobbying of pharmaceutical and health products makers continued at a steady clip in the second quarter of 2016. This industry — which has held the top spot for five-and-a-half-years — spent more than any other in the past three months, and over $20 million more than its nearest competitor, business associations (a category that includes groups like the gargantuan U.S. Chamber of Commerce and theBusiness Roundtable).
The insurance industry bumped to third place. And electronics manufacturingknocked electric utilities out of the top five. The full breakdown is below:
The credit union industry increased its spending most from the year's first quarter to its second: 46 percent. The biggest drop came from the women's issues lobby, which spent 65 percent less in the second quarter than in the first three months of 2016.
More broadly, among economic sectors, energy & natural resources took the biggest hit of the quarter, spending 15 percent less than in January through March; it also spent about 9 percent less in the first half of 2016 than in the first half of 2015. While all industries in the sector spent less than last year, the drop was mainly driven by decreased spending by the mining and oil & gas industries. Mining spent nearly $5 million less in the first half of this year than in the first half of last year, which represents a 41 percent decrease. The mining industry's horrible losses in 2015wiped out eight years of profits, possibly causing it to have less to devote to lobbying. Oil & gas spent $3.8 million less than in 2015, likely because of the precipitous drop in oil prices.
As for the top lobbying clients in the second quarter, the U.S. Chamber of Commerce and the National Association of Realtors took the top two slots, just as they did last quarter. But there were a few big shifts in the top 10, which cumulatively spent more than $78 million.
PhRMA moved from fifth to third, while the American Medical Associationdropped from third to eighth. AT&T and Google parent company Alphabet both cracked the top 10, moving from 11th and 12th to 10th and ninth, respectively.
The Business Roundtable jumped from 21st place in the first quarter to sixth in the second quarter, but that's more of a return to business as usual for the group than a sharp spike in activity.  On the whole, the Business Roundtable has actually spent 26 percent less in the first half of this year than the first half of last year.
Three firms — Northrop Grumman, Dow Chemical, and the National Association of Broadcasters — dropped out of the top 10 completely.
A Dow representative would not comment on why Dow's lobbying numbers fell so much, but it could be because a chemical bill that Dow supported, the Lautenberg Act, was passed in May. The drop from first quarter to the second represents a return to Dow's usual level of lobbying spending.
NAB's lobbying fell significantly, possibly because the Department of Justice wrapped up a battle over music licensing last quarter which pitted NAB against music publisher giants BMI and ASCAP.
And the established K Street pecking order among firms was little changed last quarter. Nine of the top 10 lobbying firms first quarter stayed there in the second quarter.
The top three lobbying firms — Akin Gump, Brownstein Hyatt, and the Podesta Group — didn't move from first to second quarter. These firms cumulatively banked $22.16 million in Q2.
Of the top 10 firms, six received more cash from last quarter, and four received less.Van Scoyoc Associates made the biggest gains, taking in $900,000 more than last quarter. That helped it to steal fourth place from Holland & Knight, which was pushed to fifth. Capitol Counsel was kicked out of the top 10 by Cornerstone and BGR Group, which took the ninth and tenth spots, respectively.
Written by Alec Goodwin and Emma Baccallieri from Open Secrets, and submitted to LawNewz.com. Open Secrets is a non-partisan nonprofit organization which tracks money in U.S. politics.
[Image via mdgn/Shutterstock]
Have a tip we should know? [email protected]