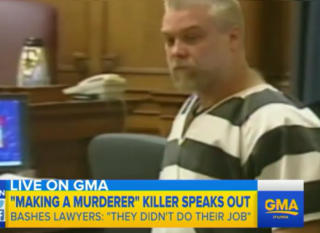 Steven Avery, the subject of the hit NetFlix documentary series Making a Murderer, gave an audio interview that was recently released, where he insists on his innocence. Avery, who is appealing his conviction for the 2005 murder of Teresa Halbach, is now blaming his trial lawyers, Dean Strang and Jerome Buting, for not properly defending him at trial.
"They didn't do their job," Avery said. "If they would do more investigating on the case, they would find all of this stuff." He insisted that if his attorneys acted properly, he'd be a free man right now. "If they did their job, I wouldn't be here."
LawNewz.com founder Dan Abrams discussed Avery's interview on ABC's Good Morning America Wednesday morning, disputing his claim. "It's not true," Abrams said of Avery's claim. "He actually had really good representation."
Abrams posited that maybe Avery's been getting advice about another pop-culture true-crime story, specifically the Adnan Syed case featured in the Serial podcast. Syed did have a problem with his lawyers, Abrams said, but that situation is not at all like Avery's. "Steven Avery had really good, really strong lawyers who represented him vigorously, and they couldn't win the case. But for him to blame them now, I think is a mistake and his [current] lawyers have issued a statement to us sort of sadly saying that they think he's mistaken, and that they can understand, considering that he's been falsely imprisoned."
The audio interview comes on the heels of a letter written by Avery, published by InTouch Weekly magazine. That letter also accuses Strang and Buting of not adequately representing Avery. "Dean and Jerry didn't do no [sic] investigation on this case, if they did I would not be in prison," he wrote. "They would have the suspect if they did there [sic] job!!" According to InTouch, Avery claims that the attorneys didn't call expert witnesses that could have discussed evidence that may have helped his case.
Have a tip we should know? [email protected]