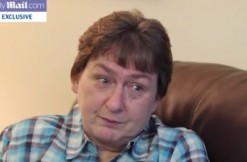 In 1974, Hillary Clinton helped start a legal aid clinic at the University of Arkansas. One year later, she defended a man from a rape allegation. Fallout from that case continues to this day.
"I don't think [Clinton is] for women or girls," Arkansas native Kathy Shelton told The Daily Mail in a new interview. "I think she's lying, I think she said anything she can to get in the campaign and win. If she was [an advocate], she wouldn't have done that to me at 12 years old."
41-year-old Thomas Alfred Taylor and a 15-year-old male accomplice were accused of raping Shelton. She was 12, and left with horrifying injuries.
"When I came out of the coma, I had several stitches down there," Shelton said. "They tore me up bad. The doctors said there was a 99 percent chance I couldn't have kids. I have been with a couple men after that, it took me a long time to grow there. But I never had any kids."
Taylor wanted a female attorney, and as you can already guess, ended up with Hillary Clinton, who was just a couple of years out of Yale Law School. The client faced a charge of first-degree rape, and a possible prison sentence of 30 years to life. Clinton managed to knock that charge down to unlawful fondling of a minor, and less than a year behind bars.
Shelton said Clinton attacked the 12-year-old's credibility, and she was ordered by the court to do a psychiatric examination with a doctor chosen by the defense.
"I have been informed that the complainant is emotionally unstable with a tendency to seek out older men and engage in fantasizing," Clinton wrote, according to The Daily Mail. "I have also been informed that she has in the past made false accusations about persons, claiming they had attacked her body." She also took advantage of a police mistake, and got key forensic evidence thrown out.
Shelton started publicly ripping Clinton for the case in 2014 when she gave an interview with The Daily Beast. (They withheld her name for privacy concerns.) What set her off was an interview Clinton gave in the 1980s. The Washington Free Beacon got their hands on it that year, and made it public.
In it, Clinton laughs while talking about the case.
'I had [Taylor] take a polygraph," she said. "Which he passed, which forever destroyed my faith in polygraphs." And Clinton does chuckle while saying this. Snopes.com says she didn't laugh to make fun of the case's outcome, but for Shelton, the tape shows the Democratic presidential nominee at her most callous.
Or as Shelton put it to The Daily Mail: "Every time I see [Clinton] on TV I just want to reach in there and grab her, but I can't do that."
We've reached out to the Clinton campaign for comment, and will update if we get a response.
[screengrab via The Daily Mail]
–
Follow Alberto Luperon on Twitter (@Alberto Luperon)
Have a tip we should know? [email protected]