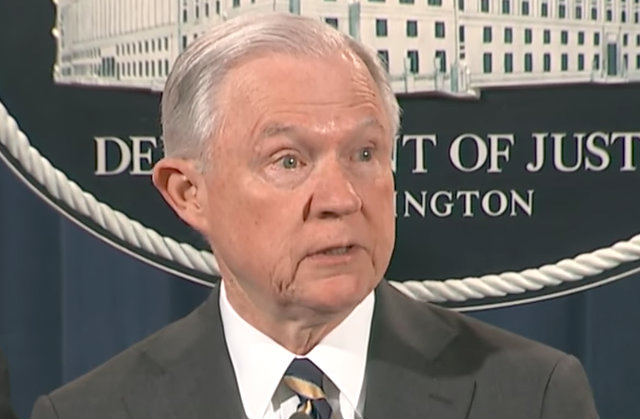 In an extraordinary move that is not getting nearly enough attention, Attorney General Jeff Sessions rescinded a Justice Department letter that warned state courts about the unlawful practice of forcing low income defendants to pay fines or face jail. Courts across the country were (and many still are) enforcing these type of fees in order to generate revenue. When people fail to pay the fees typically imposed for minor traffic infractions or city code violations, courts have been issuing arrest warrants, sending people to jail or taking away their driving licenses.  The problem with all that? In America, we don't believe in debtor's prisons. Oh, and the practice is unconstitutional. That means illegal. The U.S. outlawed debtor's prisons in 1833. In 1983, the U.S. Supreme Court also ruled that jailing indigent debtors was illegal under the 14th Amendment's Equal Protection Clause
"The idea that the Department of Justice doesn't care about the United States Constitution in courts is so wrong, and really unfortunate. It is a message that should not be sent, and has practical implications," the Honorable Lisa Foster, who served as the Director of the Office for Access to Justice at the U.S. Department of Justice said to Law&Crime.  Foster authored the "Dear Colleague" letter that was sent out in March 2016, and was rescinded by Sessions on Thursday.
Maybe the worst part of all about this decision? The fines and fees disproportionately impact minorities who can't afford to pay fines right away and often find themselves in jail. It's not just me saying this, there is study after study proving this.
Imagine getting pulled over for failing to stop at a stop sign. You get a $100 ticket. You can't pay it right away, so your license gets suspended. Then you have to drive to work to support your family but get pulled over and thrown in jail for having a suspended license. Don't believe me? The Southern Poverty Law Center filed a federal lawsuit in 2015 alleging that the small town of Alexander City, Alabama (population 15,000) was running a "modern-day debtor's prison" where poor people who couldn't pay city fines were forced to sit in jail instead. 
Now to be clear, the "Dear Colleague" that was sent last year under the Obama administration was not some kind of earth shattering, super left-wing mandate. The letter was literally just guidance notifying local judges, prosecutors, attorneys and advocates about the law. It was a letter that state municpalities had asked for. Here are some examples of what the letter instructed:
 (1)Courts must not incarcerate a person for nonpayment of fines or fees without first conducting an indigency determination and establishing that the failure to pay was

willful;

(2) Courts must consider alternatives to incarceration for indigent defendants unable to pay fines and fees;

(3) Courts must not condition access to a judicial hearing on the prepayment of fines or fees;

(4) Courts must provide meaningful notice and, in appropriate cases, counsel, when enforcing fines and fees
The DOJ attorneys go on to cite very well-established Supreme Court opinions like Bearden v. Georgia (1983) to back up their guidelines.  The SCOTUS opinion found that the due process and equal protection principles of the Fourteenth Amendment prohibit "punishing a person for his poverty."  In fact, the Supreme Court has repeatedly held that the government can't jail someone for failure to pay a fine.  The strange thing about all of this is that until Attorney General Sessions came along, this was a pretty non-partisan issue. Both Republicans and Democrats agreed there was a problem here.
In fact, the American Legislative Exchange Council (ALEC) which is a well-known conservative non-profit organization for state legislators, was also opposed to these type of excessive fees and fines. In their resolution against the practice they wrote: "excessive criminal justice financial obligations can contribute to unnecessary incarceration as some studies have found 20 percent of those in local jails are incarcerated because of failure to pay a fine or fee, which can make it even harder for the person to obtain employment and add to the burden on taxpayers."
The initial "Dear Colleague" letter, which has now been rescinded, was in response, in part, to the DOJ's Ferguson Report which found that police were unfairly targeting minorities, and saddling residents with fines. For example, a Ferguson woman parked her car illegally in 2007, and somehow ended up having to pay $1,000 and serve 6 days in jail. That's insane.
"It is tragic for the Department of Justice to retreat from concerns about and constitutional commitments to equal and fair treatment," Judith Resnik, the Arthur Liman Professor of Law at Yale Law School, said in an email to Law&Crime.
"I think it shocking and unfortunate," Judge Foster said.
This is an opinion piece. The views expressed in this article are those of just the author.
Rachel Stockman - President / On Air Host