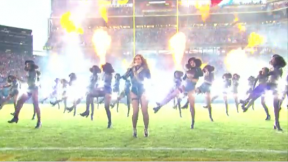 A Detroit police sergeant is under fire after allegedly posting racially fueled remarks regarding Beyonce's Super Bowl performance to Facebook. Yet another instance of the dangers of social media.
The unnamed sergeant took to Facebook to express his displeasure with the SuperBowl halftime show, criticizing Beyonce and referencing the Ku Klux Klan. The sergeant's comments come on the heels of an "Anti-Beyonce Protest Rally" planned for NFL headquarters over "hate speech."
The 17-year-veteran of Detroit's police force was particularly perturbed by the anachronistic accoutrements of Beyonce's backup dancers, who were were styled with afros and berets and adorned with Black Panther-themed embellishments. The dancers were choreographed in an "x" formation intended to pay homage to Malcom X.
The Detroit sergeant let his personal beliefs be known when he allegedly said that next year's halftime show should include the KKK. He didn't stop there. According to WJBK, the officer then posted a photo of Beyonce's dancers above a picture of Ku Klux Klan members and added a highly questionable caption:
So if the dance troupe at the top is ok for this years' halftime show, then the one at the bottom should be ok for next years', right?
Co-workers reported the sergeant's post to James Craig, Detroit's Chief of Police. Predictably, Craig said the sergeant's behavior was not representative of the Detroit Police Department.
The sergeant has removed the Facebook post and replaced it with an apology. He remains on the job while the investigation is conducted.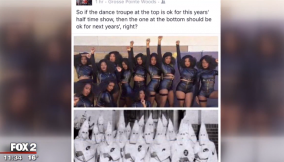 Beyoncé performed alongside Coldplay and Bruno Mars at Sunday's Pepsi Super Bowl 50 Halftime Show at Levi's Stadium in Santa Clara, CA. The "Crazy In Love" singer performed her new single, "Formation," which alluded to the Black Panthers, a revolutionary black nationalist organization popular in the 60s and 70s, and the Black Lives Matter movement.
[h/t CBSLocal]
[Screengrab via TheGuardian]
Have a tip we should know? [email protected]