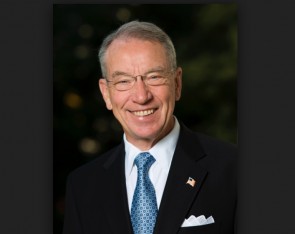 Republican Senator Charles Grassley of Iowa is the powerful Chairman of the Senate Judiciary Committee.  With that position, he essentially holds much of the the Senate's power to hold confirmation hearings and vote for federal  judicial nominees
The sudden passing of Justice Antonin Scalia left a crucial 9th seat open on the Court. Especially during an election year, both Democrats and Republicans have taken extremely partisan stances when it comes to filling the vacated seat.   Given the age of some of the Justices still sitting on the Court,  there is potentially more at stake in this election than many others in recent memory.   In theory, the next President could dominate at least three new Supreme Court justices.
For that reason, Senator Grassley has flatly refused to even schedule confirmation hearings for President Obama's nominee, Judge Merrick Garland.  Grassley and other Republicans have freqently cited longstanding, but unofficial rules that U.S. Supreme Court justices ought not be chose by lameduck Presidents. Democratic Senators, obviously, disagree.
However, with Trump slumping in the polls, there is fear among many Republicans than a President Hillary Clinton would nominate someone on the far left. This has led to speculation that Republicans might be better off taking their chances with Merrick Garland, and confirming him during the lameduck dession afer the November election.
In fact, at a Sioux City Rotary Club meeting on Monday night Grassley was asked about this during a Q&A.  The Globe Gazette reporter at the gathering wrote:
"Grassley said the only way his stance could change is if a large number of senators strongly urged him to consider the nomination during a so-called "lame-duck session" of Congress, during the time after the Nov. 8 election and before the new Congress takes office in January."
We have reached out to Sen. Grassley's Office for comment and will update if we hear back.
Have a tip we should know? [email protected]