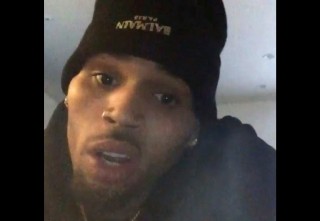 Los Angeles Police were outside the home of Chris Brown at approximately 3am Tuesday morning, after a woman called 911 to report that the R&B singer allegedly pulled a gun on her. In the meantime, Brown took to Instagram and posted a series of videos about it, claiming he hasn't done anything and doesn't know what the whole fuss is about.
Warning: all videos contain strong language
Police were waiting for a search warrant to enter Brown's home in order to look for a gun matching a description in the 911 call. Brown said (in much more colorful language), that he hasn't done anything wrong, and that when police do get a warrant, they won't find anything. He also took the opportunity to say, "Black lives matter," and, "F**k the police."
He then took an opportunity to plug his album, before going on another profanity-laced tirade against the police.
With cops still outside his home, Brown reportedly threw a duffel bag out of a window, and police recovered two guns and unidentified drugs. Brown yelled out, "Come and get me." The woman who made the report has not been identified, although TMZ reported that she is a beauty pageant winner.
Police eventually acquired a warrant and entered the home, and searched the premises while Brown's lawyer, Mark Geragos, was present. A number of guests left the home at that time. Brown was later arrested for assault with a deadly weapon, and was released after he posted bail.
This article has been updated with information regarding the execution of the search warrant and Brown's arrest.
[Image via screengrab]
Have a tip we should know? [email protected]