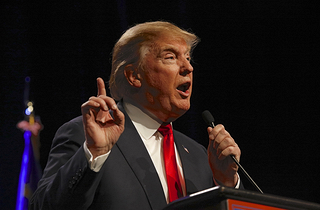 The conversation surrounding the potential hypocrisy of Donald Trump's immigration policy just got a whole lot more interesting. Former models for the Trump Model Management, Trump's modeling agency, say they worked illegally under tourist visas for years. The evidence backing up the allegations, consists of a combination of court records, corroborating interviews, and photos shot in the United States featuring models in the country under tourist visas. These documents form the backbone of an in-depth article by James West at Mother Jones.
Some of the information comes from documents filed as exhibits in a class action lawsuit filed in 2014 by Jamaican former Trump model Alexia Palmer against the agency. Financial statements from Trump Model Management show that Palmer was working in the United States before she got her work visa in October 2011. Apparently she had not even applied for the visa until April 2011. Rachel Blais, another former Trump model who's originally from Canada, also provided Mother Jones with financial and immigration records showing that she worked in the United States for six months before getting her work visa. She even appeared on an episode of Trump's reality competition series, "The Apprentice," as a model during the period that six month period.
Two other models who spoke to Mother Jones anonymously said they never even got work visas while being represented by Trump Model Management for work in the United States. After being provided with the photos, Mother Jones confirmed the dates and locations with the photographers. Trump campaign spokeswoman Hope Hicks refused to comment to them on this story, saying that "That has nothing to do with me or the campaign" and directing them to Trump Model Management, who did not respond to numerous emails and phone calls.
Blais, who said that Trump Model Management was "the most crooked agency I've ever worked for," and added that the models living quarters were an apartment full of bunk beds, with two to three people in each bedroom. " The cost? According to "a detailed financial statement provided by Blais," she paid $1,600 per month to share a room with five other women. The company also reportedly charged numerous, seemingly nebulous fees to the models on top of their 20% commission, with Palmer earning just $3,880.75 in the end after three years of work.
Blais summed it all up ominously with one short sentence: "It's like modern-day slavery."
[Photo: Shutterstock]
Have a tip we should know? [email protected]