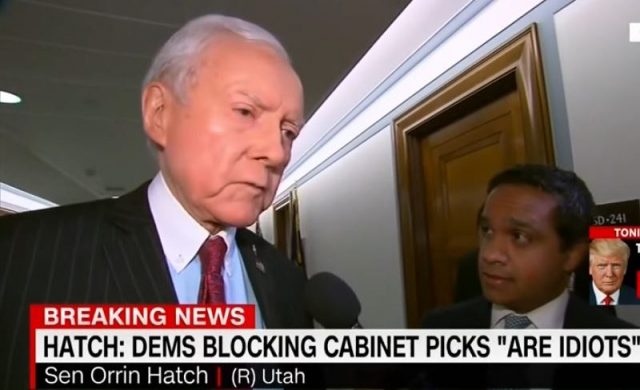 Democrats and Republicans have been battling over the nominations of Steve Mnuchin and Tom Price, respectively President Trump's picks for Secretary of the Treasury and Secretary of Health and Human Services. Democrats have accused both men of lying in their hearings, and they are seeking additional time to investigate further.
On Tuesday, Democrats on the Senate Finance Committee, the body that has to approve the nominations before they go to full Senate vote, boycotted a hearing where the Committee was to decide on the nominations. This delayed the process for both Mnuchin and Price, as Committee rules require at least 13 members including at least one Democrat to have the quorum necessary for a vote. On Wednesday, Republicans decided to change the rules.
Without any Democrats present for the second day in a row, Finance Committee Chairman Orrin Hatch led his Republican colleagues in a vote to suspend the committee's rules. After the change was made, with Democrats no longer needed to vote, the 14 Republicans present moved forward and voted in favor of Mnuchin and Price. Both nominees will now go before the entire Senate.
Hatch said that Democrats "have nobody to blame but themselves," according to CNN. He pointed the finger at the Democrats' decision to boycott, claiming their actions made the rule change necessary.
Have a tip we should know? [email protected]