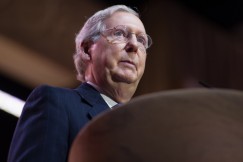 Senate Majority Leader Mitch McConnell categorically rejected the notion that the U.S. Senate will hold hearings on any Supreme Court nominee advanced by President Obama on Tuesday afternoon.
The Kentucky Republican, who spoke out against President Obama's article II responsibility to appoint a Supreme Court Justice just moments after the death of Justice Antonin Scalia, made the remarks as he spoke from the Senate floor.
Republican members of the Senate Judiciary Committee—which is in charge of conducting federal judge hearings—unanimously decided to oppose any confirmation hearing.
Eight Republican senators on the Judiciary Committee sent a letter to McConnell vowing not to hold hearings on a Scalia replacement: Charles E. Grassley (R-IA), Orrin G. Hatch (R-UT), Jeff Sessions (R-AL), Lindsey Graham (R-SC), John Cornyn (R-TX), Michael Lee (R-UT), Ted Cruz (R-TX) and Jeff Flake (R-AZ).
Speaking on the Senate floor, McConnell said,
This is his moment. He has every right to nominate someone. Even if doing so will inevitably plunge our nation into another bitter and avoidable struggle, that is his right. Even if he never expects that nominee to actually be confirmed but rather to wield as an electoral cudgel, that is his right.
[h/t The NewYork Times]
Have a tip we should know? [email protected]