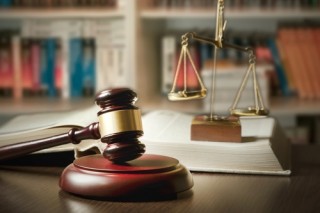 A Manhattan attorney on trial for attempted rape told the jury he was innocent because he forgot to take his Viagra on the night in question, according to The New York Post.
The accused, Dan Nelson, proffered this astounding defense when he took the stand at his trial on Monday to testify in his own defense to charges that he attempted to rape a woman on a Murphy bed in the conference room of his Midtown law office back in 2014.
According to The Post, Nelson admitted that the evening in question began with a disastrous date with another woman, but he denied the prosecutor's allegation on cross-examination that the reason the date went bad was because Nelson repeatedly called the woman's grandmother a whore.  At the conclusion of the disastrous date, Nelson admitted to drinking about three bottles of wine and drunkenly texting at least 10 different women before ultimately meeting up with the accuser at a bar in the East Village — and from there the two decided to go to his office building to continue their evening.
Nelson then dropped a bombshell, telling jurors he suffers from erectile dysfunction and that the accuser began mocking his inability to perform.
"She said to me, 'Is there a problem?' … I got upset. I thought she was taunting me because I couldn't get an erection,"  Nelson told the jurors.
He also told the jury that he did not take his Viagra on the evening in question because he was not expecting to get lucky, according to the paper.  Police did discover a Viagra pill in Nelson's pocket on the night of the incident, according to The Post.
Nelson admitted that he was angry with the woman for mocking him and that he grabbed her arm to push her towards the exit when she refused his requests to leave, according to the paper.
When asked to explain how the accuser tore her dress and why her wig fell off, Nelson explained, "At first, she wouldn't budge.  Then she lunged away from me and twisted around, at which time her dress tore and came off in my hand and her wig came off."
The accuser testified earlier at the trial that she had second thoughts about the one-night stand once she arrived at the office and Nelson attacked her when she tried to leave.
This is the second time in as many weeks that Nelson has put forth an astounding defense to the attempted rape allegations.  Last week, Nelson's attorney argued that the accuser was too fat for her story to have been true.
There is no word on how this is all going over with the jury.
[h/t The New York Post; screengrab via Nelson's firm youtube]
Have a tip we should know? [email protected]