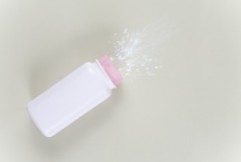 A Missouri jury awarded $72 million to the family of a woman who died of ovarian cancer that they found was linked to decades of using Johnson & Johnson's Baby Powder and Shower to Shower talc-based products.
Jacqueline Fox of Birmingham, Alabama, had used both powders regularly for over 35 years. She was diagnosed with ovarian cancer three years ago and died in October 2015 at age 62.
After a trial that lasted three weeks, the jury only took four hours to determine that Johnson & Johnson was liable for fraud, negligence, and conspiracy. They awarded $10 million in actual damages and $62 million in punitive damages.
Fox family attorney Jere Beasley, said Johnson & Johnson "knew as far back as the 1980s of the risk,"  but engaged in "lying to the public, lying to the regulatory agencies," Reuters reports. Johnson & Johnson spokesperson Carol Goodrich expressed sympathy for the Fox family, but maintained that she and her company "firmly believe the safety of cosmetic talc is supported by decades of scientific evidence."
Jim Onder, another one of the plaintiff's attorneys, said that "[Johnson & Johnson] knew talcum caused ovarian cancer, and actively undertook to hide the truth," according to the St. Louis Post-Dispatch. "They went out and intentionally 're-engineered the science' hiring members of 'the club' to misrepresent the medical literature." Onder also referred to a Johnson & Johnson internal memo that discussed that sales were down due to customers' awareness of the health risk. The same memo suggested targeting the Hispanic and black populations, known for high usage of talcum powder, which was relevant in the case of Fox, a black woman.
The verdict, announced Monday night, is the first to award damages for claims of this nature. In 2013, a South Dakota jury found that a plaintiff's use of Johnson & Johnson body powder was a cause of her ovarian cancer, but did not award damages. Johnson & Johnson currently faces over a thousand suits alleging that they failed to warn customers of the dangers of the talcum powders to prevent a decrease in sales.
Valeant Pharmaceuticals International, Inc. is the current owner of the Shower to Shower brand, but was not a defendant in Fox's case.
[h/t Reuters, image via Shutterstock]
Have a tip we should know? [email protected]