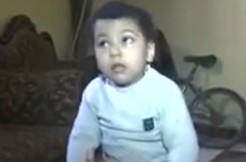 Take your time while reading this. The story's a bit convoluted—a three-year-old was sentenced to life in prison by Egyptian authorities, but regained his freedom when investigators realized they were actually looking for someone else.
Ahmed Mansour Qorany Sharara, and 115 others were convicted last week by a military court that said they'd killed three people, and damaged property during a political demonstration gone wrong in January 2014. The kid was 16-months-old at the time.
The military admitted the day after conviction it was a case of mistaken identity. They were really looking for a 16-year-old with the same name as the kid. Sure, anyone could make that mistake.
"If it is true that it was a mistaken identity, why did they come to arrest the boy?" lawyer Mahmoud Abu Kaf told CNN. "Why haven't security arrested the right defendant then?"
The kid's dad was pulled into this too. When investigators tried to get the toddler in 2014, they went ahead and arrested his father instead after realizing their suspect was too young. The man, Mansour Qorany Sharara, wasted four months behind bars until a judge released him. Sharara then went on the run for 18 months, only recently coming home. Authorities promised that neither father nor son are in danger of getting arrested again. And just to be clear, investigators spent all that time knowing their suspect was a tot, and they still included him in last week's military court.
Egypt's been a bit of mess, politically. In fact, over a thousand people got the death sentence for alleged involvement in the deaths of police officers during protests. While most sentences were later commuted to life, Abu Kaf said the state's cases are nonsense.
"Most cases involving big events are based on investigations and no tangible evidence," he said. "We've seen cases where defendants were either deceased years before the incident or in prison when it happened."
The country's head of state is General Abdel Fattah el-Sisi, after a 2013 military coup kicked out the democratically elected Mohamed Morsi. And yes, that's what the protesters were protesting about.
[h/t CNN]
[image via CNN screengrab]
–
Follow Alberto Luperon on Twitter (@Alberto Luperon)
Have a tip we should know? [email protected]