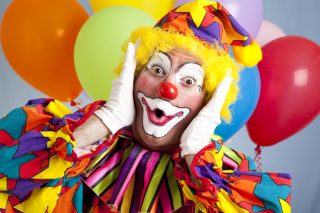 Clowns are no laughing matter.
With reports — both real and fake — of clowns terrorizing people all over the country, a New Jersey school district is assuring parents that they're taking action.
Ron Bolandi, interim Superintendent of Montclair Public Schools, wrote a letter saying that schools are working to maintain school safety. "Please note we are being diligent and proactive working with the Montclair Police Department to ensure security throughout our buildings and grounds," Bolandi wrote.
So what's Bolandi's latest strategy for combating the circus scourge? He's banning students from dressing up as clown on Halloween, out of concern that it will spawn more trouble. That's right, a government official has given in to fear of makeup and bright clothing by abolishing the costumes from school grounds. In his letter, he wrote:
With Halloween just a few weeks away, I am asking for your cooperation in not allowing your children to dress up as clowns at any school event due to the possible disruption and fear it may cause. If anyone shows up with a clown related costume, they will be asked to change or sent home.
The clowns have won, people. The clowns have won.
[Image via Shutterstock]
Have a tip we should know? [email protected]