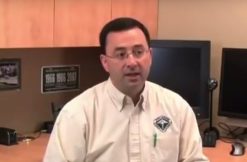 Dr. Larry Nassar, who used to be a physician for the USA gymnastics team, is being investigated for sexual assault by the Michigan attorney general.
"This complex case is believed to have crossed into multiple jurisdictions in Michigan, and possibly across state lines, putting the Department of Attorney General in the best position to effectively investigate and prosecute this case," the AG's office wrote in a statement published Thursday. He hasn't been charged of a crime.
Nassar isn't some random guy. Until September 2015, he served on the USA Olympic gymnastics team for years, and was, until recently, a professor at Michigan State University's College of Osteopathic Medicine. Sexual assault claims have surrounded him for a while, and the alleged victims were his patients, some of them former gymnasts. One is reportedly an Olympic medalist, and she has sued Nassar in California under the name "Jane Doe." Another, Rachael Denhollander, made a report with Michigan police during the month of August.
Denhollander spoke with IndyStar for a September report, saying the doctor abused her during treatment.
"I was terrified," she said. "I was ashamed. I was very embarrassed. And I was very confused, trying to reconcile what was happening with the person he was supposed to be. He's this famous doctor. He's trusted by my friends. He's trusted by these other gymnasts. How could he reach this position in the medical profession, how could he reach this kind of prominence and stature if this is who he is?"
Reportedly, police at MSU have received at least two dozen complaints from former patients.
Nassar denied allegations through his attorney. In September, he was fired from teaching job due to the allegations.
[Screengrab of Nassar via WTHR]
–
Follow Alberto Luperon on Twitter (@Alberto Luperon)
Have a tip we should know? [email protected]