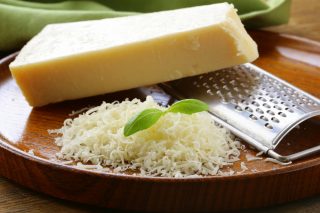 Federal prosecutors are looking for a suitable punishment for the head of a cheese company that was caught selling fake Parmesan and Romana cheese. Sentencing documents, obtained by LawNewz.com, filed this week sought community service time at a food pantry or soup kitchen for Michelle Myrter, President of Castle Cheese, Inc.
In addition to the food-related service, prosecutors recommended that Myrter spend between zero and six months in jail.
Myrter pleaded guilty in February to a misdemeanor charge of aiding and abetting the introduction of misbranded and adulterated food into interstate commerce. Court records say that this came after Castle Cheese and two other companies under the same management were accused of making and distributing fake cheese that was falsely marked as 100% Parmesan or 100% Romano, when they contained "little, if any" of those cheeses. The other companies have already pleaded guilty to conspiracy and money laundering, and have ceased operations. According to court documents, Myrter had an "indirect controlling ownership interest" in those companies.
Castle Cheese was charged with conducting the fraudulent operations from 2010 to 2013. A tip from a former employee sparked an investigation by the Food and Drug Administration, that included a raid by the FDA and the IRS in January 2013.
Myrter's sentencing hearing is scheduled for October 11 in U.S. District Court in the Western District of Pennsylvania.
Myrter Sentencing Memo by LawNewz on Scribd
[Image via Shutterstock]
Have a tip we should know? [email protected]