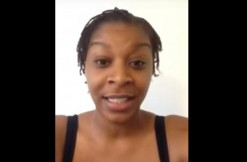 The family of Sandra Bland has announced they've settled a lawsuit over her death. Their attorney, Cannon Lambert, told ABC 13 that they've reached an agreement with Waller County, Texas for $1.9 million. Mother Geneva Reed-Veal told the outlet that thanks to the settlement, the county jail where Bland died must have emergency nurses around the clock, upgrade its cell check system, and improve other in-house practices like inmate screening. She said legislation that helps the county will be named in Bland's memory.
Bland, 28, died on July 13, 2015 at her Waller County Jail cell. It was ruled a suicide by hanging. She was booked for "assault on a public servant" on July 10, but the release of dashcam footage of her arrest, which told a different story, sparked a national controversy over how law enforcement treats people of color. Bland was black.
The Texas state trooper who brought her in, Brian Encinia, was later fired in the ensuing fallout, and indicted for perjury. A grand jury said he lied about what really happened. They declined to charge anyone in Bland's death, however.
[screengrab via Facebook post]
–
Follow Alberto Luperon on Twitter (@Alberto Luperon)
Have a tip we should know? [email protected]