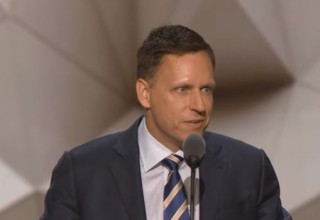 A source connected to PayPal founder Peter Thiel revealed that the tech billionaire says Donald Trump plans to nominate him to the U.S. Supreme Court if he's elected President, according to a report by The Huffington Post. Another source told the publication that Trump's inner circle has discussed the possibility of Thiel as a SCOTUS nominee.
Spokespeople for Trump and Thiel have denied it. Hope Hicks, Trump's press secretary, said, "There is absolutely no truth to this whatsoever." Thiel spokesman Jeremiah Hall said, "Peter hasn't had any conversations about a Supreme Court nomination and has no interest in the job."
Despite being known for his accomplishments in the tech world, Thiel does have an impressive background in the legal industry. He graduated from Stanford Law School and worked for Sullivan & Cromwell, one of the most prestigious firms in the country. Thiel would be filling the seat left vacant by the passing of Justice Antonin Scalia, whom Thiel once interviewed with for a clerkship. Thiel wrote in his book, Zero to One: Notes on Startups, or How to Build the Future, that he interviewed with both Scalia and Justice Anthony Kennedy, but did not get either position.
Thiel is openly gay and is in favor of marriage equality, but is also a conservative who has donated to former presidential candidates Carly Fiorina, Ted Cruz, and Ron Paul. Thiel spoke at this year's Republican National Convention, supporting Trump.
Have a tip we should know? [email protected]