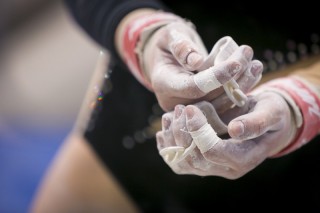 For decades, USA Gymnastics (USAG), the organization that assembles the men's and women's Olympic gymnastics teams, swept allegations of coaches' sexual abuse under the rug, according to an exclusive report by IndyStar. IndyStar's in-depth investigation (of which this article barely scratches the surface) revealed that USAG would only report signed complaints by the athletes themselves, or, if they were minors, a parent. As a result, multiple complaints filed by gym owners and other coaches were buried in a confidential file. Several of the subjects of those complaints reportedly continued to abuse gymnasts for years before athletes finally came forward, leading to arrests.
At least four coaches were charged and served jail time, but court records indicate that more than a dozen underage athletes were abused by them after USAG had already received warnings about them. One of those coaches, William McCabe, is now being sued by a former pupil. McCabe is also currently serving a 30-year sentence after pleading guilty in 2006 to federal charges of sexual exploitation of children and making false statements.
The gymnast suing McCabe is 22 now, but is identified in her complaint as Jane Doe, as she was a minor at the time of the abuse. While McCabe was arrested in 2006, Doe alleges that USAG was aware of McCabe's misconduct as far back as 1998. Gym owner Dan Dickey sent USAG a letter in October of that year, when he learned that McCabe was coaching at a USAG-affiliated gym in Tallahassee, Florida after Dickey fired him in 1996 for inappropriate behavior. Dickey's letter recalled how he heard that McCabe had bragged about having a 15-year-old girl in her underwear, and that he'd be able to sleep with her soon. Dickey said that when he spotted McCabe at a USAG event in Tampa, he told his new employer, Jan Giunipero about his past. McCabe reportedly resigned from Giunipero's gym after being accused of sexual harassment.
Giunipero did some digging and discovered allegations from other gyms where McCabe had worked in 1996 and 1997. She sent this information to USAG, with names and contact information for various parties, only to see McCabe coaching again at a Tallahassee clinic. "Parents from the Tallahassee area are appalled that USA Gymnastics has not revoked his professional membership," she said in a letter to USAG. This is tame language compared to Dickey's letter, which flat out warned, "In my opinion this person has no right to work with children and should be locked in a cage before someone is raped."
But off those letters went, to a private file instead of to police.
Doe blames USAG for allowing McCabe to continue to coach for the next eight years. She began training at McCabe's new gym in 2002. Her complaint states that her mother had gotten anonymous tips about McCabe's past. When Doe's mother contacted USAG's national headquarters in Indiana about this, asking if they had ever received complaints against McCabe, USAG allegedly said no, and that McCabe was a member in good standing.
Doe claims that he started sending her emails and private messages in 2005, including sexual comments and graphic images. She alleges that he secretly videotaped her while she undressed, and uploaded the files to his computer, and sent videos and images of her to other people. The complaint says that the abuse "culminat[ed] in inappropriate sexual contact." Doe's mother discovered emails from McCabe on Doe's computer, which led her to contact the FBI.
USAG claims that they didn't go to authorities with any of the previous complaints against McCabe, because they all came from third parties, which they considered hearsay. They also claimed that reports from other coaches couldn't be trusted because the coaching world is so competitive that people might make things up.
According to the report, the law of Indiana, where USAG is based, requires all people to report child abuse. Shelley Haymaker, an attorney who represents child abuse victims, told IndyStar that USAG broke the law by not reporting abuse. "There is no question that USAG is not interpreting the law of our state, but rather their own internal law and system," Haymaker said. Regarding Doe's case, USAG said in a court filing, "No information sent to USA Gymnastics about McCabe prior to 2006 provided any foresight about McCabe's criminal misconduct towards [Doe]." According to IndyStar, USAG also claims that the requirement to report abuse only applies to individuals, not organizations. Therefore, USAG argues, they are not liable.
Courtney Kiehl, co-founder of Abused Children Heard Everywhere Foundation and herself a survivor of sexual abuse from a gymnastics coach, said that USAG's requirement of getting a statement from a victim or victim's parent before making a report is "absurd." She told IndyStar, "It sounds like someone came up with something who has no real idea of what the experience of a victim is."
"It did not have to happen," Doe's mother told IndyStar. "Bill McCabe could have been stopped close to 10 years before he got these girls."
There are three other coaches that IndyStar discovered with similar stories, who ended up serving jail time. But with 54 complaints of abuse sealed in USAG files, it's unknown how many coaches are still out there.
Check out IndyStar's full report, Out of Balance – an IndyStar Investigation, here.
[Image via Shutterstock]
Have a tip we should know? [email protected]