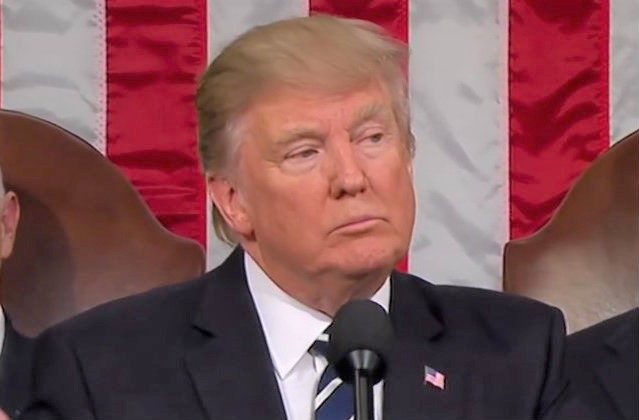 Earlier this month, Louise Mensch and Claude Taylor reported on the patribotics blog that there is already a sealed indictment against President Donald Trump that could be used as grounds for impeachment. On Monday, they reported additional information, claiming that not only does the indictment exist, but it's the result of an investigation conducted by New York Attorney General Eric Schneiderman.
The report states that Schneiderman's office was looking into Russian oligarchs and mobsters, including Semion Moglievich who reportedly lived in Trump Tower. That investigation supposedly turned up information that led Schneiderman to go to the Foreign Intelligence Surveillance Court (FISC). FISC, the story goes, then brought evidence to a federal grand jury who indicted the President. While prosecutors won't/can't move forward with a criminal case against the sitting President, the indictment is supposedly being used for an impeachment case.
The report says that after the grand jury voted to indict, Deputy Attorney General Rod Rosenstein showed the indictment to Senators including Lindsey Graham (R-South Carolina), and that Representative Al Green (D-Texas) then called for Trump's impeachment on the House floor. "I can report as fact that the Sergeant At Arms of the Senate … went to the White House on that Wednesday night," the report says, adding that President Trump was notified that an impeachment case against him has commenced. The report also indicates that a judicial branch official informed Trump that he didn't follow procedure when he declassified information that he revealed to Russian officials.
LawNewz.com reached out to the offices of Schneiderman and Graham for comment, but they have yet to respond.
The report remains unconfirmed and doesn't go into a lot of specifics, nor is it clear on what kind of sources it relies on. Mensch drew plenty of criticism when she said in her original report that it was the Marshal of the Supreme Court who gave Trump the news, which is not how this process would go. Mensch corrected herself in the new report, saying that it was the Senate's Sergeant At Arms who who went to the White House. While Mensch's credibility has been called into question, she was reliable when reporting on a different story involving FISC, where she broke the news that the FBI, during the Obama administration, obtained a FISA warrant to look into ties between the Trump campaign and Russia.
If this new report is true, it could explain why White House lawyers were reportedly researching impeachment in the days after Trump was supposedly notified.
[Image via ABC screengrab]
Have a tip we should know? [email protected]