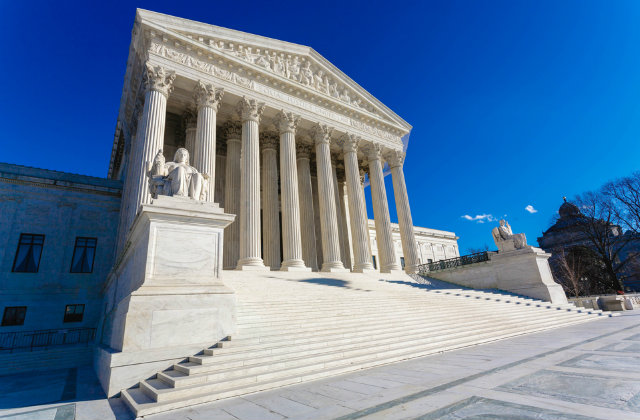 On Tuesday, the Supreme Court ruled that an immigrant can remain in the States despite his "no contest" plea to statutory rape of a minor.
Juan Esquivel-Quintana came here from Mexico in 2000. Not undocumented. He was a lawful permanent resident, but that legal status became vulnerable when he got arrested for the statutory rape of a 17-year-old girl. He was 21, and prosecutors charged him under a California law that criminalized "unlawful sexual intercourse with a minor who is more than three years younger than the perpetrator." Do the math. Note that CA defines minors as being under age 18.
Esquivel-Quintana pleaded no contest in 2009, so he remained susceptible to punishment despite not admitting guilt.
This case started out as a state issue, but the federal government got involved because he wasn't a citizen. The Department of Homeland Security wanted to kick him out of the States under the Immigration and Nationality Act. Any person, lawful resident or not, who commits an "aggravated felony" is subject to removal. This includes "sexual abuse of a minor."
Sounds like a straightforward case: She was 17. That's under 18.
But in Tuesday's ruling for Esquivel-Quintana v. Sessions, the Court relied on federal law to handle the age issue. Seven justices joined Clarence Thomas' opinion (new guy Neil Gorsuch wasn't on the Court during the oral argument in February).
"We must decide whether a conviction under a state statute criminalizing consensual sexual intercourse between a 21-year-old and a 17-year-old qualifies as sexual abuse of a minor under the INA," Thomas wrote. "We hold that it does not."
Note that the Court treated the relations as consensual. They decided that the facts of the case didn't meet the federal definition of sexual abuse of a minor: the victim would have had to be under 16. Therefore, this didn't qualify as an "aggravated felony" under the INA.
Justices looked at the generic federal definition of Esquivel-Quintana's alleged crime, and analyzed state laws for context. From the ruling [emphasis ours]:
When "sexual abuse of a minor" was added to the INA in 1996, thirty-one States and the District of Columbia set the age of consent at 16 for statutory rape offenses that hinged solely on the age of the participants.

…

…the generic crime of sexual abuse of a minor may include a different age of consent where the perpetrator and victim are in a significant relationship of trust. As relevant to this case, however, the general consensus from state criminal codes points to the same generic definition as dictionaries and federal law: Where sexual intercourse is abusive solely because of the ages of the participants, the victim must be younger than 16.
The Court's 8-0 decision reversed a Sixth Circuit decision. That means the DHS can't kick Esquivel-Quintana from the U.S., at least when it comes to the no contest plea.
[Image via Tinnaporn Sathapornnanont and Shutterstock]
Have a tip we should know? [email protected]