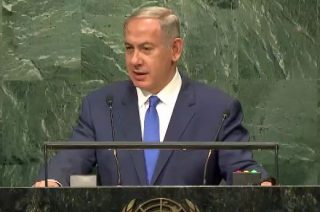 Israeli Prime Minister Benjamin Netanyahu may be the subject of a criminal investigation of possible bribery offenses, according to a new report from Israel's Ynet News. The news source says that Attorney General Avichai Mandelblit will likely make an announcement on the matter some time in the next few days.
Mandelblit will also reportedly close other existing probes into Netanyahu that began earlier this year, due to insufficient evidence.
It is unclear what specific allegations Israeli police would be investigating, but the Prime Minister has faced suspicion regarding allegations that donors improperly transferred funds to him for personal use. This could, however, be one of the cases that authorities plan to close.
Israel's Channel 10 reported on Wednesday that Mandelblit authorized Israeli police to question Netanyahu at some point in the future. Ynet reported that the decision to move forward with an investigation was made after Mandelblit met with Meni Yitzhaki, the head of the Israeli police's Investigations and Intelligence Department, and State Attorney Shai Nitzan.
In a joint statement after Channel 10's report, The Israel Police and the Justice Ministry said:
We cannot comment on the report for obvious reasons, as the examination is still ongoing. This is neither confirmation or denial of what has been alleged. The attorney-general, the police and prosecutors are working in close cooperation and a public announcement will be made in due course about the investigation.
While he has not commented on the latest news, Netanyahu has previously addressed reports of legal inquiries regarding him, saying, "Nothing will come out of it because there is nothing to it."
The Prime Minister had already been making headlines this week, after a controversial UN resolution targeting Israel which the U.S. did not veto, and a speech by Secretary of State John Kerry defending the decision, which was criticized by Democrats and Republicans in Congress.
Have a tip we should know? [email protected]