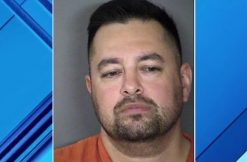 The San Antonio Police Department announced that Jesus Gonalzez, 42, was arrested for sexually abusing a 13-year-old girl—his lover's daughter. Jail records viewed by LawNewz.com show that he's been charged with continuous sexual abuse of a child. This first degree felony could land him with at least 25 years behind bars.
KENS5 obtained records which show that Gonzalez worked with Elmendorf police until Tuesday, the same day as his arrest. We've reached out to his former employer for comment and confirmation of details.
The outlet also got their hands on the arrest warrant. According to the record, the victim told the SAPD that she and Gonzalez had sex over 20 times. This situation was involved. The two interacted on Instagram and Kik. Police said Gonzalez even obtained sexual photos and videos of the victim, and even told her that he wanted to marry her. This behavior allegedly started in September, and carried on to the week before Christmas.
The SAPD claimed it confronted Gonzalez while he was armed, and in uniform, but no resistance was reported.
[Mugshot via Bexar County and KSAT]
Have a tip we should know? [email protected]