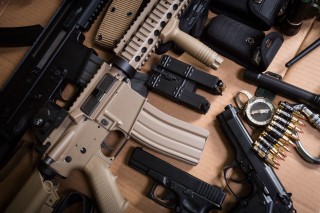 When California Governor Jerry Brown signed gun legislation into law this past July, he ensured that gun retailers would have a banner season this Christmas. As is often the case, regulations affecting semi-automatic weapons have something of an automatic effect on the industry as a whole. Since July, Californians have purchased over 260,000 semi-automatic rifles, which represents a 300 percent increase over last year's sales.
The six new regulations, among other things, do the following:
Expand the definition of "assault weapon" and further the ban on large guns.
Require people to turn in high-capacity magazines.
Mandate background checks prior to purchasing ammunition.
Ban the sale of weapons containing "bullet buttons" (a button used to pop out a high-capacity ammunition magazine and make it easier for a shooter to reload).
Limit a gun owner's ability to legally loan a firearm to someone else without a background check.
Criminalize the filing of a false report of a stolen firearm.
Other details of the regulations, as well as the precise way the laws will affect firearms purchased prior to 2017 still remain to be clarified.
Predictably, California's legislation has been highly controversial, and has been called the "most aggressive action ever" by the drafting legislators. Gun enthusiasts, like the National Shooting Sports Foundation, have characterized the new regulations as "highly restrictive" and "unneeded," while Governor Brown released a statement explaining that his goal was to "enhance public safety by tightening our existing laws in a responsible and focused manner, while protecting the rights of law-abiding gun owners." Breitbart included the regs in its list of the "Top 10 Stupidest New Laws in California for 2017," while many others laud them as "common sense regulations." Basically, it's just more of the typical gun/cold, dead hand dance.
The new legislation goes into effect January 1, 2017; taken together with the 10-day waiting period before consumers could have obtained their firearm of choice, Wednesday, December 22 was the last day buyers could have legally purchased such weapons. After the new year, it will still be legal to own these guns – just not to buy them.
When it comes to holiday consumerism, guns aren't much different than any other trend. People are easily whipped into a buying frenzy, even when they're not entirely sure why. CBS News Los Angeles reported a conversation with Vince Torres, owner of Bullseye Sport in Riverside, California. "We had a lady [who bought an AR-15] for each one of the kids and one for herself. A lot of people are saying 'I want to buy one of those ARs'. I would say, 'Do you know what you're buying?' And they would say, "no, just want one of those ARs.'"
Who needs Hatchimals when you've got AR-15s, I guess.
Have a tip we should know? [email protected]
Elura Nanos - Columnist & Trial Analyst, Law & Crime; CEO Lawyer Up