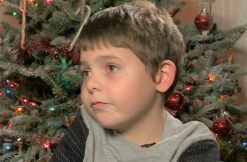 8-Year-old Joe Maldonado, who was born Jodi, used to belong to Pack 87 in Secaucus, New Jersey. That changed, though. He got kicked out of the Boy Scouts because parents complained that he's transgender, mother Kristie said.
The other scouts were fine with it. Their moms and dads apparently weren't, though. "Not one of the kids said, 'You don't belong here,'" Kristie told North Jersey in a Tuesday report. She said she never made Joe's history a secret.
"It made me mad," Joe said. "I had a sad face, but I wasn't crying. I'm way more angry than sad. My identity is a boy. If I was them, I would let every person in the world go in. It's right to do." He later added, "How dare they judge me? I don't have to explain it. It's the way I'm born."
LawNewz.com reached out to the Boy Scouts and Pack 87 for comment [see updates below]. The NJ report got a statement from Boy Scouts of America's Communication Director, Effie Delimarkos, who said that birth certificates would be used to "confirm legal status," but did not give additional comment. Kristie said the official who announced Joe's ouster did not ask to see a birth certificate.
New Jersey requires surgery before transgender people can change the sex on their birth certificates. Other states, like Minnesota and Nevada, don't.
Update – December 29, 12:09 p.m.: Delimarkos responded to our request for comment. She said the Boy Scouts of America reached out to the family, and shared information on alternative programs like Learning for Life and STEM Scouts.
The BSA grants youth membership to Cub Scouts to boys in the first through fifth grades, or 7 to 10 years of age. If needed, we defer to the information provided for an individual's birth certificate and their biological sex.

Scouting teaches its youth members and adult leaders to be respectful of other people and individual beliefs.
According the North Jersey story, Kristie said Joe, who wants an apology for getting kicked out, "would not be fine if I put him in Girl Scouts."
January 1, 2017, 2:38 p.m.: Pack 87 responded to our request for comment. They didn't mention the Maldonado family directly, but said it's the national Boy Scouts of America organization, not the local councils, that establishes membership requirements.
As a result, all BSA councils and their units are not allowed to register anyone who is not eligible under the rules set forth by the national organization.

Decisions made regarding participant eligibility are made according to the national requirements – not at the local council or unit level," they wrote.
[Screengrab via CBS]
Have a tip we should know? [email protected]