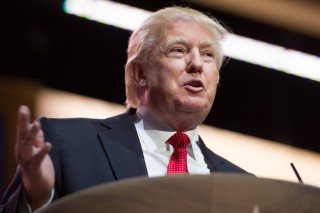 Incoming White House Communications Director and Press Secretary Sean Spicer appeared on Hugh Hewitt's radio program Thursday morning, addressing a number of issues facing President-elect Donald Trump. Among them was the U.S. Supreme Court, and how Trump plans to fill the vacant position left by the late Justice Antonin Scalia.
Trump has made it clear that he will not be going along with President Obama's current nominee, Merrick Garland, for whom the Senate has refused to hold confirmation hearings. The President-elect has listed a number of possibilities for the high court, but it remains to be seen whether he will stick to it or branch out. It also remains to be seen when Trump will get around to making a decision.
Hewitt asked Spicer if he has any idea when Trump will address the Supreme Court vacancy, noting that incoming Chief of Staff Reince Priebus said it could come after the inauguration. When asked if he had a better idea of exactly when, Spicer said, "No …. But it is on that front burner. He has talked to a lot of folks. He's solicited some input. But I think that I wouldn't expect an announcement until probably, know, he is officially the president of the United States." Spicer said that Trump's priority right now is to finish selecting his cabinet.
[Image via Shutterstock]
Have a tip we should know? [email protected]