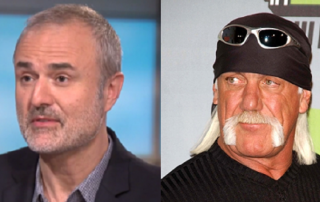 On Sunday night, The Wall Street Journal's Lukas Alpert reported that "according to two people familiar with the matter," Gawker Media is in "preliminary talks" with Hulk Hogan (real name Terry Bollea) to settle his long-running invasion of privacy lawsuit. Hogan won a $140 million judgment in March after a two week trial, which led to Gawker Media as well as its founder/publisher Nick Denton filing Chapter 11 bankruptcy. The case stemmed from Gawker posting excerpts of a surreptitiously shot sex tape featuring Hogan back in October 2012.
Gawker issued the following statement to the WSJ (Hogan's representatives were not immediately available for comment):
We've been hearing these rumblings many times over the years when the judge ordered settlement discussions, and you know where we are now despite that.
Apparently, the "people familiar with the matter" echoed those sentiments during Alpert's reporting. Rumors abounded throughout the case about Hogan turning down reasonable offers, which made a lot more sense when it came out that billionaire Peter Thiel was funding Hogan's case after stewing for years over his own, not legally actionable issues with Gawker.
The bankruptcy auction for Gawker Media's assets, begins on August 16th. Preliminary bids are due at 5 p.m. ET the previous day.
Have a tip we should know? [email protected]