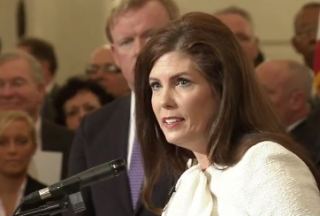 Jury selection is scheduled to begin on Monday for the criminal trial of Pennsylvania Attorney General Kathleen Kane. Kane is charged with perjury, obstruction, official oppression, and other offenses, for allegedly revealing secret grand jury information to embarrass a political opponent, and then lying about it under oath, Philly.com reported.
Kane has reportedly portrayed the prosecution as revenge for uncovering the sharing of pornography among prosecutors, judges, and defense attorneys over state servers. According to Fox News, that revelation led to the dismissal of two state Supreme Court justices and others, but a judge said that Kane's defense can't use that information during her trial. Last week, Kane filed a motion to dismiss the charges, but it was denied.
The first female Attorney General in Pennsylvania, Kane remains in office, despite having her license to practice law suspended due to her arrest. This is the last year of her first term, and she has said she is not seeking reelection. "I love my job, and I'm grateful that I ran," Kane said in a recent interview with ABC6. "I'm grateful that I was elected, and I would do it all over again, even knowing the trials and tribulations that I have personally been put through." But she didn't know quite how difficult it would be. "When I said I was going to take on the good ol' boys I sure did, but I had no idea how rough and tumble they were going to be back."
The trial is taking place at the Montgomery County Courthouse in Norristown, Pennsylvania.
[Image via screengrab]
Have a tip we should know? [email protected]