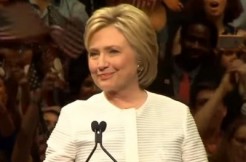 Hillary Clinton, presumptive Democratic Party nominee for the presidency, might have received a classified email on her personal account, according to a Fox News report. It's another development in a long running scandal, where she has been criticized for keeping work-related emails on a private server during her time as Secretary of State.
A State Department message sent to Clinton on April 8, 2012, concerned the scheduling of a phone call with then-President of Malawi, Joyce Banda, and "to offer condolences on the passing of President [Bingu wa] Mutharika." The State Department redacted several pages before releasing it. A label states it was classified on January 29, 2016, but there's a line in the April 8 message (bottom of the first page), which shows the code, "C." This may show it was already confidential. Clinton has previously said she didn't send or receive any emails that had been classified at the time.
A Clinton campaign spokesman said it was only made confidential after she left office.
"This email was just a request for Secretary Clinton to make a phone call to express condolences over the passing of the President of Malawi," Clinton campaign spokesman Brian Fallon told Fox News. "The fact that this email was classified after the fact suggests again that agencies in the government tend to err on the side of classifying even routine matters of diplomacy."
This isn't the first classified email linked to her private account. As of late February, a report had the total number at over 2,000.
–
Follow Alberto Luperon on Twitter (@Alberto Luperon)
Have a tip we should know? [email protected]