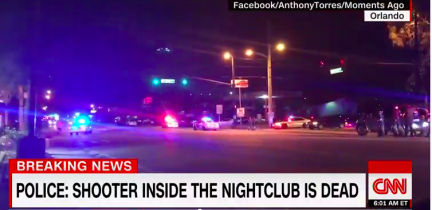 Authorities in Orlando held a press conference Sunday morning to update the public on the on the horrific shooting that occurred early Sunday at an Orlando nightclub that is reportedly a popular LGBT hangout.  With at least 50 killed, it was likely to most deadly mass shooting incident in the U.S. history.
Orlando Police Chief John Mina confirmed 50 people were killed and another 53 were hospitalized with serious injuries.  Chief Mina confirmed the gunman, who was killed around 5:00 a.m. in shootout near the club, was said to be armed with a handgun and an AR-15 type gun.  One officer was shot in his kevlar helmet during an exchange of gunfire with the suspect, but the bullet did no penetrate the helmet.  SWAT team officers are being credited with saving the lives of at least 30 additional potential victims by rushing in and leading them to safety.
Officers have not officially named the suspect, but multiple news agencies have identified the suspected gunman as Omar Mateen of Port St. Lucie, Florida. His family is from Afghanistan.
LawNewz.com will continue to update this story throughout the day, including with the recent comments by the local mayor and other city and area leaders.
UPDATE:
Tweet from Orlando Police Department showing the SWAT officers kevlar hemet that was struck by a round fired from that suspect as mentioned above:
Pulse shooting: In hail of gunfire in which suspect was killed, OPD officer was hit. Kevlar helmet saved his life. pic.twitter.com/MAb0jGi7r4

— Orlando Police (@OrlandoPolice) June 12, 2016
Have a tip we should know? [email protected]