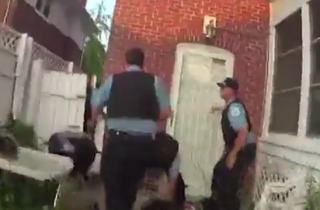 Three gangs on Chicago's West Side allegedly met to discuss a response to the police shooting of an unarmed black teenager, the Chicago SunTimes reported. Members of the Vice Lords, Black Disciples, and Four Corner Hustlers reportedly got together on Thursday to talk about carrying out attacks on officers, and issued an alert to members of the Chicago Police Department a day after the meeting.
The alert reportedly said that the Four Corner Hustlers have "a sniper in place" and are providing automatic weapons to the other gangs, which they plan on using against cops.
This comes in the wake of the shooting death of 18-year-old Paul O'Neal. Body camera footage showed officers chasing and firing at O'Neal, who crashed a car into a police vehicle and then fled on foot. Video of the actual shooting has been missing, with only recordings of the events leading up to it, and the aftermath, being released to the public. Police have reportedly said that the camera of the officer who shot O'Neal wasn't working.
Dean Angelo, president of Lodge 7 of the Fraternal Order of Police, blamed statements from the O'Neal family's attorney for threats being made against officers. "We had inflammatory and false rhetoric coming from [Michael Oppenheimer] and statements that weren't true," he said. "This should not surprise anyone that we have this type of antagonistic and threatening behavior towards police officers."
CPD spokesman Anthony Guglielmi didn't comment on the specifics of how the department is responding to the gang threat. He said on Monday in an email to the SunTimes, "To safeguard the integrity of operations, the department does not comment on any security measures." Police sources have reportedly told the newspaper that members of the police department were told to "limit interactions and visibility."
[Image via screengrab]
Have a tip we should know? [email protected]