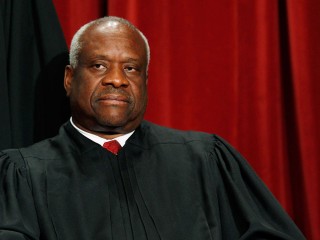 Update 6/20/16 10:05am: Ginni Thomas, wife of the Supreme Court Justice, said that her husband is not planning to retire. She said in a Facebook post that the report that Justice Clarence Thomas is planning on stepping down from the bench is "bogus."
---
The Washington Examiner reported that according to their sources, Supreme Court Justice Clarence Thomas is considering retiring after November's election.
This could have a tremendous impact on the ideological balance on the Court, especially depending on who the next President is. With the recent passing of Justice Antonin Scalia, the Court has already lost one conservative voice this year. While Scalia's position has yet to be filled, President Barack Obama's nominee for the spot, Merrick Garland, is viewed as more of a centrist, but Republicans in the Senate have vowed not to confirm him.
If Thomas does retire, that would leave two open spots that were once filled by conservatives. If Hillary Clinton is elected President, she would be able to nominate two justices in the beginning of their first term (provided Senate Republicans don't go back on their word and confirm Garland before the next President takes office). The Court is currently split 4-4 between liberals and conservatives. That split would quickly shift to 6-3 in the favor of liberals. Furthermore, Justice Anthony Kennedy turns 80 next year. If the Republican Kennedy retires, a Democratic President could then nominate another liberal justice to make it 7-2, shifting the dynamic of the Supreme Court for years, maybe decades, to come.
If Republicans take the White House, however, conservative appointees could maintain their 5-4 majority. Only time, and November's election, will tell.
Have a tip we should know? [email protected]