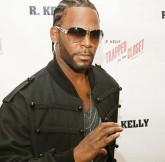 An already tense GQ interview with R. Kelly got more so when Bill Cosby came up.
The controversial singer said he's a big fan of Cosby. "Who's not?" he said, and then cast doubt on the over 50 women who've made sexual assault allegations against the TV star and comedian.
"And when I look on TV and I see the 70, 80, 90-year old ladies talking about what happened when they were 17, 18, or 19, there's something strange about it," he said. "That's my opinion. It's just strange."
Cosby admitted to drugging women for sex in a 2005 civil deposition, which triggered a current trial in Pennsylvania. He's been charged with committing aggravated indecent assault on a former employee of Temple University, Andrea Constand.
Kelly was pretty insistent, saying only God could show him the truth of Cosby's guilt. "No man can tell me that," he said. "No woman can tell me that. And when you wait 70 years, 50 years, 40 years, to say something that simple, it's strange." (By the way, Constand pursued charges soon after the alleged assault.)
But Kelly's feeling are predictable, considering his history. He's been trailed by sexual assault allegations for years, even with minors, which he called lies, "All of them," and he's never been convicted of anything. So there's that. But he was once married to a 15-year-old, the late singer Aaliyah.
–
>> Follow Alberto Luperon on Twitter (@Alberto Luperon)
Have a tip we should know? [email protected]