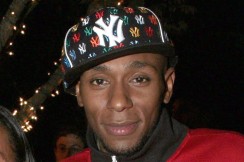 American rapper and actor Mos Def is now facing charges for running around with a fake passport, according to South African officials Wednesday.
Def, born Dante Smith and now known as Yasiin Bey, ran afoul of authorities when he tried to leave South Africa with something he called a "world passport." What the hell is that? It's something issued by the World Service Authority, the administrative section of the World Government of World Citizens, a populist organization that's been around for decades. No, it's not a recognized nation.
South African authorities weren't going to accept it. They're also telling him his family needs to leave the county by Jan. 29, according to Home Affairs Director General Mkuseli Apleni at a press conference. That's because his wife's and child's visas expired in April 2014.
All this is interesting because Def has totally entered the country using a U.S. passport 10 times, Apleni said. However, for some reason, he decided to use this apparently 'fake' one this time.
Def, who has been living in South Africa for years, doesn't think he should be charged. Hell, he rapped about it on Kanye West's website.
"I committed no crime. Why is the state wasting my time?" he said. "I'll go away. And when I leave, that's exactly where I'll stay."
He is scheduled for a Mar. 8 court hearing.
[h/t ABC Action News, image via Shutterstock]
–
>> Follow Alberto Luperon on Twitter (@Alberto Luperon)
Have a tip we should know? [email protected]