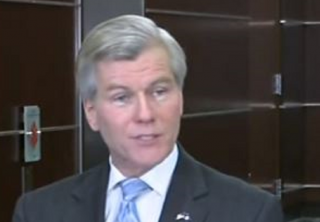 In June, the U.S. Supreme Court issued a ruling in the corruption case against former Virginia Governor Robert McDonnell. McDonnell had been accused of engaging in official acts on behalf of a businessman, in exchange for gifts and bribes. The Court decided that at McDonnell's trial, the jury had not been properly instructed as to the meaning of "official act," so they vacated the conviction and sent the case down to a lower court, where McDonnell could potentially face a new trial. On Thursday, federal prosecutors opted not to retry him.
In an unopposed motion, the U.S. Attorney's Office requested that the Fourth Circuit Court of Appeals send the case back down to the district court, "to dismiss the indictment with prejudice." While the Court of Appeals still has to formally grant the motion before the case is officially dismissed, the motion makes it clear that prosecutors have no intention of ever trying this case again, so McDonnell is in the clear.
McDonnell's wife Maureen had also been convicted on related charges, and her appeal had been on hold while the former governor's case was still going on. The U.S. Department of Justice announced on Thursday that the charges against Maureen McDonnell will be dropped as well.
[Image via screengrab]
Have a tip we should know? [email protected]