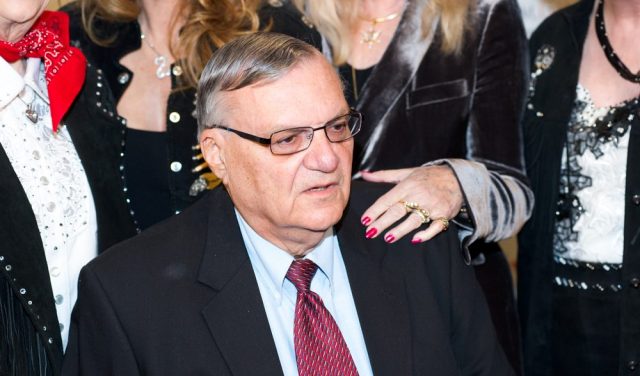 PHOENIX (AP) — Prosecutors in former Sheriff Joe Arpaio's criminal case say past court decisions back up their claim that President Donald Trump's pardon nullifies the lawman's conviction.
But the U.S. Justice Department lawyers also said in a court filing Thursday that the pardon doesn't require Judge Susan Bolton to alter, destroy or erase records in Arpaio's criminal case.
Arpaio's attorneys are seeking to formally dismiss Arpaio's criminal case and throw out a blistering 14-page ruling that explained the reasoning behind his guilty verdict. They say their requests are aimed at clearing Arpaio's name and barring the ruling's use in future court cases as an example of a prior bad act.
The pardon spared the 85-year-old lawman a possible jail sentence for his July 31 conviction for intentionally disobeying a court order in a racial profiling case to stop his traffic patrols that targeted immigrants.
The sheriff was accused of continuing the patrols for 17 months so that he could promote his immigration enforcement efforts in a bid to boost his successful 2012 re-election campaign. Arpaio, who endorsed Trump during the 2016 campaign, has acknowledged prolonging the patrols, but insisted his disobedience was not intentional.
In the ruling that Arpaio wants thrown out, Bolton cited TV interviews and news releases in which the sheriff made comments about keeping up the patrols, even though he knew they were no longer allowed.
Ten days ago, prosecutors told Bolton that the case should be dismissed and that all orders in the case should be annuled. The latest filing by prosecutors is a response to Bolton's complaint that the Justice Department lawyers didn't cite legal cases to back up their legal positions.
Lawyers who defeated Arpaio in the racial profiling case have urged Bolton against throwing out the decision that explains the guilty verdict. They said the decision should remain intact to serve as a rebuke of the sheriff's actions and as a deterrent to other politicians who might want to disobey a judge's orders.
Three legal advocacy groups also have asked Bolton to declare the pardon invalid or unconstitutional. They say letting the pardon stand would encourage government officials to flout future court orders on matters involving people's constitutional rights.
Since the pardon, Arpaio has said he did nothing wrong, criticized Bolton as biased and called the offense behind his conviction a "petty crime." Arpaio, defeated last year in the same election that sent Trump to the White House, is now talking about getting back into politics.
An Oct. 4 hearing has been scheduled to consider Arpaio's request to dismiss the case and throw out the ruling that explained the verdict.
Have a tip we should know? [email protected]