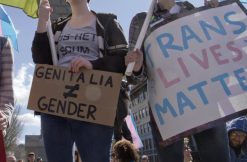 New York is thinking about letting Medicaid cover hormone therapy for transgender minors. The state's health department published the proposed rule in the state register on Wednesday. They said they interviewed healthcare practitioners, who said it'd be a good move.
"All of these practitioners were of the opinion that the use of pubertal suppressants and cross-sex hormone therapy could be medically necessary in the treatment of GD in individuals under age 18," the proposal states. "They acknowledged that it would be ideal if more high quality studies were available on the long-term effects of the treatments, but all believed that the positive effects they have observed in the short term in improving the mental health of minors with GD outweigh the potential long-term risks."
Practitioners reportedly said hormone therapy, which would suppress puberty, often is not proscribed until the patient is age 16, and "surgical interventions" (read: sex reassignment surgery) wouldn't be recommended until age 18.
The rule is being placed under a 45-day public comment period. After that, the state is allowed to adopt it.
[h/t New York Times]
[image of North Carolina protest via J. Bicking and Shutterstock]
–
Follow Alberto Luperon on Twitter (@Alberto Luperon)
Have a tip we should know? [email protected]