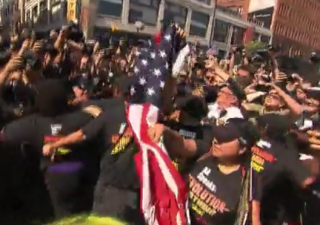 Protests outside the the Republican National Convention in Cleveland were just as fiery as the speeches being given inside. On Wednesday, police say a man set an American flag on fire and burned himself in the process. According to CNN, the man responsible was also arrested for assaulting an officer at the scene.
"You're on fire! You're on fire, stupid!" an officer can be heard yelling after a man set a flag ablaze. The flag burning was organized by the Revolutionary Communist Party, ABC News reported.
Protestor lit flag on fire, then lit himself on fire, catching others on fire. Flames extinguished by firefighters. No serious injuries.

— Cleveland Police (@CLEpolice) July 20, 2016
Eighteen people in total were arrested during Wednesday's protests. Authorities said two officers were punched while trying to manage the crowd, sustaining minor injuries.
Watch the video below, courtesy of CNN:
Among those arrested was Gregory "Joey" Johnson, who burned an American flag outside the GOP convention in 1984, resulting in the 1989 U.S. Supreme Court decision that ruled that flag burning was legal as protected free speech.
Have a tip we should know? [email protected]