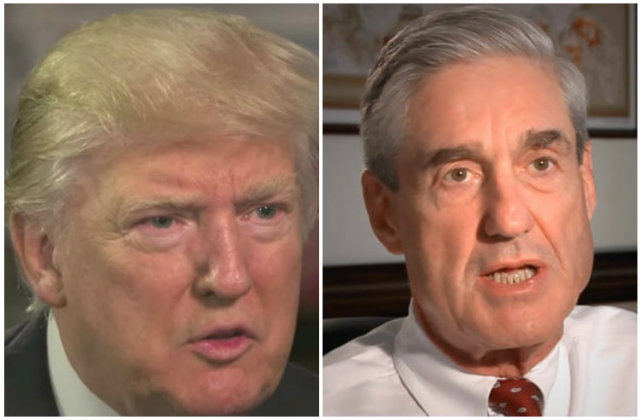 An internal email from at least one police force in America reveals that the possibility of Special Counsel Robert Mueller's firing figures very much into how they are advising officers to prepare.
Apparently, police got the impression that tensions rose significantly after Senate Majority Leader Mitch McConnell (R-Ky.) shot down legislation Tuesday that would limit Trump's ability to fire Mueller.
"I'm the one who decides what we take to the floor, that's my responsibility as the majority leader, and we will not be having this on the floor of the Senate," McConnell said.
He later said there are two reasons why such a bill is pointless: one, there is "no indication" Trump is going to fire Mueller; two, why would Trump sign legislation restricting himself?
Well, anyway, in light of that, the commander of the Pittsburgh Bureau of Police, Victor Joseph, sent out a memo to officers advising them to start carrying riot gear with them in case Donald Trump says "You're fired" to Robert Mueller.
SOURCE: This is the email sent to Pgh detectives this morning. I am working to get a response from the city as well as additional details on the potential protests. #WTAE pic.twitter.com/xtOuUc220p

— Marcie Cipriani (@MCipriani_WTAE) April 18, 2018
According to KDKA, police think a major demonstration will take place within a 24 hours of a Mueller firing.
"We have received information of a potential large scale protest in the Central Business District. The protest would be semi-spontaneous and more than likely happen on short notice," the internal email said. "Beginning Thursday, all Major Crimes detectives are required to bring a full uniform and any issued protective equipment (riot gear) with them to work until further notice."
Pittsburgh Public Safety Director Wendell Hissrich told Fox News that the riot gear memo is an example of police proceeding with an "abundance of caution," regardless of whether said gear is needed.
"Often the events we prepare for do not occur. However, through an abundance of caution, we attempt to adequately prepare for an appropriate response," he said. "We receive information regularly about potential events and/or threats, assess the credibility of the information and plan for a potential event. In this case, we have not assessed the credibility of the potential for disturbances, and we do not have any knowledge of the President's decision-making process."
[Images via ABC screengrab and the FBI]
Have a tip we should know? [email protected]