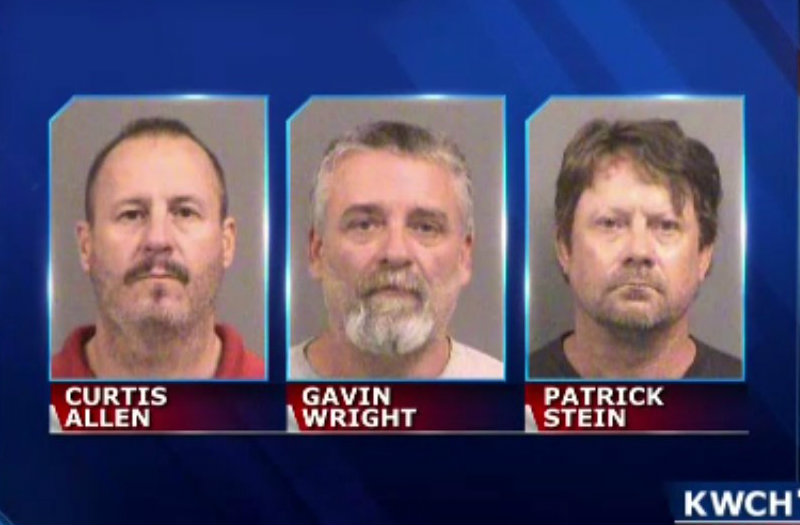 Three Kansas men were convicted in federal court on Wednesday of planning to blow up a Garden City apartment complex where there was a mosque, and a lot of Somali Muslim immigrant residents, according to The Kansas City Star.
Curtis Allen, Patrick Stein, and Gavin Wright were each found guilty of conspiracy to use a weapon of mass destruction and conspiracy against civil rights. Wright was also determined to have lied to the Federal Bureau of Investigation.
The defendants were charged in October 16. As described in the criminal complaint, the plot was to put explosives in four vehicles, and park those at four corners of the apartment complex. Allen, Stein, and Wright all belonged to an anti-government, anti-Muslim, anti-immigrant militia group called "the Crusaders." The bombing plot was motivated by hatred of Muslims.
In particular, Stein called the Somali immigrants "cockroaches" on multiple occasions. Here's one example of something he said during a June 2016 conference call:
The only fucking way this country's ever going to get turned around is it will be a bloodbath and it will be a nasty, messy motherfucker. Unless a lot more people in this country wake up and smell the fucking coffee and decide they want this country back…we might be too late, if they do wake up…I think we can get it done. But it ain't going to be nothing nice about it.
Defense lawyers argued their clients weren't going to break the law, that the discussions weren't earnest, and that the prosecution was violating their clients' First Amendment rights to free speech and freedom of association.
Notably, the defense attorneys also wanted rural Trump voters to serve on the jury.
[Screengrab via KWCH]
Have a tip we should know? [email protected]