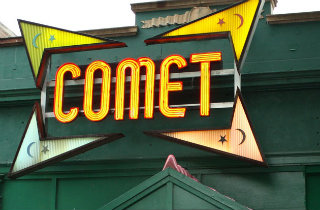 On Tuesday, a new wrinkle developed in the court case of Edgar Maddison Welch, the man charged with entering a Washington, DC pizzeria while armed to save abused children that a popular conspiracy theory alleged were trapped inside. During a hearing in Washington, D.C. Superior Court, the gun possession charge against Welch was dropped to make way for the new federal charges. Prosecutors told the Washington Post that he is being charged federally with "interstate transportation of a firearm with intent to commit an offense or with knowledge or reasonable cause to believe that an offense would be committed."
The maximum sentence for the new federal charge is 10 years in prison with potential for fines, as well. According to prosecutors, Welch's first federal court date could be as soon as Tuesday afternoon.
On December 4th, Welch showed up at Comet Ping Pong, a popular D.C. pizzeria, armed with a gun and demanded to be shown where children were being kept. The incident stemmed from "Pizzagate," a conspiracy theory that had been picking up steam online since shortly before Election Day. The gist of the theory is that some of the more peculiar and seemingly coded emails stolen from John Podesta, Hillary Clinton's campaign chairman, which often mention pizza and other food, are actually about child sex slaves. Comet Pizza became the epicenter of the conspiracy thanks in part to owner James Alefantis's connections to the Democratic Party.
[Photo: User DOCLVHUGO at Wikimedia Commons]
Have a tip we should know? [email protected]