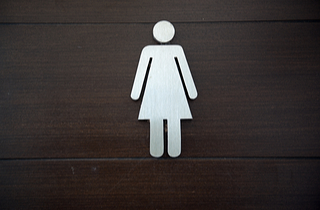 A new law in Oklahoma appeared to require restaurants, hospitals, public schools, and other buildings to post signs with pro-life language in their restrooms, but the lawmaker who sponsored it says the language of the law has caused confusion. The law, which includes measures "for the purpose of achieving an abortion-free society," does provide for signs to be placed in restrooms regulated by the State Department of Health, but many interpreted it to mean that it was mandatory.
The signs, as described in the law, known as the Humanity of the Unborn Child Act, are to say:
There are many public and private agencies willing and able to help you carry your child to term and assist you and your child after your child is born, whether you choose to keep your child or to place him or her for adoption. The State of Oklahoma strongly urges you to contact them if you are pregnant.
Causing perhaps more controversy than the message itself, is the belief that the businesses themselves will have to pay for it. State lawmakers didn't approve government funding for it, and business owners estimated that it would cost a total of $2.3 million to put the law into effect. This caused commotion among local businesses. "It's just another mandate on small businesses," Jim Hooper, president of the Oklahoma Restaurant Association told The News & Observer. "It's not just restaurants. It includes hospitals, nursing homes. It just doesn't make sense."
Well, that could be because it's not true. State Senator A.J. Griffin, who sponsored the law, clarified in a statement to LawNewz.com that posting the signs is voluntary rather than mandatory. She did acknowledge that the language of the law has led to some getting the wrong impression. "This confusion will be clarified with the rules making process," she said. Senator Griffin added, "There is no penalty for not complying or reward for complying therefore compliance is voluntary, not compelled either way.  This also must be clarified in the rule making process although I intend to change the language in statute to make this clearer."
As far as who is supposed to pay for the signs, Senator Griffin told LawNewz that the law says that the Department of Health shall make the signs available, but she said that there have been differing interpretations of what that means. "It appears the department has interpreted that as make electronically available but not print (versions of the signs)," Griffin said, but made it clear that "[t]his was not the intent." She added that these issues show why it's important that the law is not meant to take effect until 2018, as the time between now and then can now be used "to continue discussions and address issues."
Other provisions in the law include development of educational materials for schools "to teach the humanity of the unborn child." Such instruction would be at the schools' discretion, but the law says that they are not to include any sex education "other than those included in science education standards."
This article has been updated to reflect Senator Griffin's comments to LawNewz.com. An earlier version reflected reports that the signs were mandatory and that businesses would have to pay for them.
Humanity of the Unborn Child Act by LawNewz on Scribd
[Image via Shutterstock]
Have a tip we should know? [email protected]