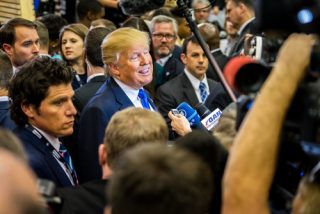 During his campaign, Donald Trump talked repeatedly about his desire to "open up the libel laws" to make it easier to sue the media. He's also been a big proponent of deregulating the federal government. He even promised that for every federal regulation passed, two existing regulations would be eliminated. So here's any easy one for Trump to start with, and it also involves "loosening" up media laws so he should like it. Trump needs to immediately push for the repeal of a dated and antiquated rule that prohibits media cross-ownership. This Federal Communications Commission rule basically prevents companies from owning both broadcast stations and daily newspaper in the same market.
Sounds kind of dry, but this is actually a pretty big deal. The rule was passed in 1975. Despite many attempts to get rid of it, it is still in place today. The truth is the rule is totally out of touch with our complex internet-driven media reality of 2016, and is actually hindering prosperity.  In an era where local news is dying because they are competing with an unending supply of online publications, there is no need to have one more obstruction preventing these much-needed local media organizations from staying afloat.
"The rules were put in place when you had three networks, a couple of newspapers, now we have satellite TV, satellite radio, cable, the internet, a lot of opportunity in a market," Paul Boyle from the News Media Alliance told LawNewz.com. "Unfortunately we are competing with internet companies and there is nothing that prevents them from cross-ownership. They can buy every newspaper in the county." The lobbying group, which represents the news media, recently penned a White Paper detailing its policy positions, which include the repeal of this law.
The original purpose of the rule was to prevent any single company from becoming too powerful a voice within a community. But here's the thing: there are now a plethora of news outlets that can speak to all different voices.  For example, just where I work at Abrams Media, we have a girl geek site, a fashion site which seeks to include the plus-size community, a website that covers intersection of politics and news, plus this legal website.
"[T]he rules banning cross-media ownership no longer reflects the reality of today's media landscape and they unnecessarily restrain investment," the White Paper said.
Advocates of the rule say that cross-ownership of media would disproportionately effect minority and female ownership. However, that theory was shot down in a study recently conducted as part of the Federal Communication Commission's review of laws. The study concluded that the impact on minority and women broadcast ownership is not "sufficiently material" to justify retaining the rules.
I don't have to tell you that local newspapers and television stations are struggling. Many have been forced to shed jobs or completely shut down.  According to the Pew Research Center, "2015 might as well have been a recession year" for newspapers.  Weekday circulation fell 7% and Sunday circulation fell 4%, showing their greatest declines since 2010, according to the center. TV stations with ABC, CBS, FOX, and NBC affiliates also lost viewership in every key time slot.
This is particularly sad because these outlets are such an important watchdog to government and are critical for fighting public corruption. Here's a small sampling of what they can uncover.  The Tampa Bay Times published an award winning investigative piece that exposed how county school leaders were completely failing black school children in the district.  KARE 11 in Minneapolis documented how the Department of Veterans Affairs was using unqualified doctors and inadequate tests to improperly deny benefits – and access to medical care – promised to the nation's veterans.  A joint Atlanta Journal Constitution and WSB investigation documented fatal police shootings in Georgia and uncovered prosecutorial misconduct, police cover-ups, and breakdowns in justice that prompted state leaders to take action.
So I don't live in a time warp, and I totally get the days of Walter Cronkite are over.  People don't sit down to watch the 6 o'clock news and then tune in to their local news. But you can bet the demand for good storytelling about our local communities is still desperately needed.  In fact, to this day, these local outlets break some of the biggest stories because they have the sources in communities that the big wigs at New York networks don't have.
Earlier this month, a bipartisan group from the House Energy and Commerce Committee introduced legislation to repeal the 41-year old rule. Get the government out of the way, and loosen up our cross-ownership media laws, Mr. Trump!  Give these places a shot of surviving, and the ability to adapt to the changing media landscape of 2017.
[image via shutterstock]
This is an opinion piece. The views expressed in this article are those of just the author.
Rachel Stockman - President / On Air Host