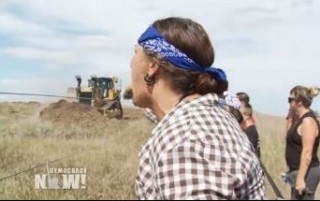 Over the weekend, a violent clash broke out between security guards and protesters at a North Dakota construction site where an oil pipeline is being built. Members of the Standing Rock Sioux tribe are against the Dakota Access Pipeline, which they say will desecrate their sacred grounds, and they filed a lawsuit to put an end to it. The Standing Rock Sioux also requested a temporary restraining order to put the construction on hold while the case is pending.
On Tuesday, U.S. District Judge James Boasberg partially granted the request for a temporary restraining order, halting some of the construction until he issues a ruling on the case later this week. If Judge Boasberg rules in the tribe's favor, the U.S. Army Corps of Engineers will have to revoke the permits that were given for the development.
In the meantime, Dakota Access is agreeing to stop construction for the next few days in accordance with the judge's ruling. The Standing Rock Sioux are not satisfied, however, because the order only covers about half of the land that they asked for. Jan Hasselman, an attorney for the Standing Rock Sioux, told reporters that the area that was granted did not include ancient burial grounds and prayer sites. In a statement, Standing Rock Sioux Tribal Chairman David Archambault II said that the judge's ruling still puts "sacred places at further risk of ruin and desecration." Hasselman said that if Judge Boasberg rules against the tribe later this week, they will consider filing an appeal.
[Screengrab via Democracy Now!]
Have a tip we should know? [email protected]