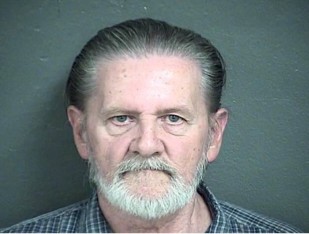 A federal complaint filed on Tuesday in Kansas City, Kansas provides the details of a rather bizarre bank robbery allegedly committed by a man on September 2, 2016.
According to the complaint obtained by LawNewz.com, surveillance video showed a man identified as Lawrence John Ripple walk into a bank in downtown Kansas City, Kansas and presented a note to a teller demanding money.  The note was recovered by investigators and said, "I have a gun give me your cash."  The teller told investigators she complied and handed over  $2,924.00 in cash.
Strangely, bank employees told investigators Ripple did not attempt to make a getaway.  Instead, an FBI agent said surveillance video showed Ripple walked from the teller's desk to a lobby area still inside the bank.  A bank security guard told investigators when approached him, Ripple said "[H]e was the guy he was looking for."  The security guard then detained Ripple until police and federal agents arrived on scene.  A search revealed Ripple was still in possession of the $2,924.00.  He was arrested and taken to the police station to be interviewed.
FBI Special Agent Eric Beltz described the interview in the complaint as follows:
"During the post Miranda interview, Ripple relayed that he and his wife had an argument at home and Ripple no longer wanted to be in the situation.  Ripple wrote out his demand note in front of his wife Remedios Ripple and told her he'd rather be in jail than at home. Ripple then walked to the bank and robbed it."
Yup, the FBI says Ripple no longer wanted to live at home with his wife, so he apparently decided robbing a bank would be the quickest way to go to jail.
READ the Complaint:
Have a tip we should know? [email protected]