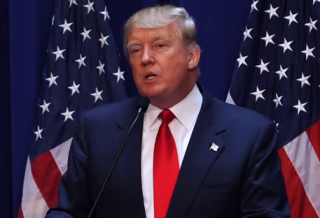 LawNewz.com has previously reported on the — shall we say convenient — timing of a donation from Donald Trump to Florida Attorney General Pam Bondi. Back in 2013, Trump's family foundation gave a $25,000 contribution supporting Bondi days after she announced she may join an investigation of Trump University. Bondi opted not to pursue the case, and Trump reportedly had to pay a fine for making a political contribution through a charitable organization.
But it turns out there was more. Months later, in March 2014, Bondi held a fundraiser at Trump's Mar-a-Lago resort, according to a report by The Huffington Post. Now, that on its own means nothing, as Mar-a-Lago is a famous venue in Bondi's home state. But consider that Trump charges his own campaign about $140,000 for each event held there, and compare that to the $4,855.65 that the Republican Party of Florida laid out for the evening. That steep discount is a pretty valuable contribution for a campaign fundraiser that carried a suggested minimum donation of $3,000 per attendee, even if it was only a "small event on the lawn … featuring snacks and refreshments, attended by about 50 people," as a Bondi aide told The Huffington Post.
That's not all. Trump and his daughter Ivanka gave $125,000 to the Florida Republican Party, Bondi's biggest financial backer, and they had each previously given $500 to the Attorney General's campaign.
Of course, there's nothing wrong with giving a politician a discounted rate for renting a space, or making a contribution to a local chapter of one's political party. Trump spends much of his time in Florida, he's owned Mar-a-Lago since 1985, and there could be plenty of reasons why a man in his position would want to curry favor with local politicians. Trump has long acknowledged his contributions to politicians on both sides of the aisle for his own benefit, and he's surely not the only one who builds relationships this way. But the stream of contributions so soon after Bondi decided to overlook a Trump scandal that resulted in multiple class action lawsuits certainly raises eyebrows.
[Image via screengrab]
This is an opinion piece. The views expressed in this article are those of just the author.