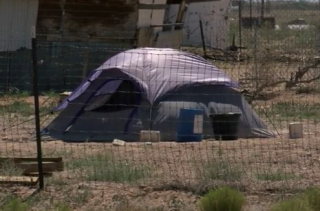 A New Mexico couple has come under criticism from neighbors for making their 16-year-old son live in a tent in their yard, KRQE reported. Jacob and Angela Boggus said they had run out of options, after failing to keep their son from repeatedly stealing from them.
Neighbors reported the Bogguses to law enforcement, but the parents don't believe they're doing anything illegal. "We're not doing anything wrong here. We're simply trying to teach our child a lesson," Angela said. "We are trying to do the best we can."
They believe the punishment is necessary to teach their son not to steal from people. "If he doesn't learn that now, it's gonna be the whole world's problem, not just ours, in a couple of years," Jacob said. "Or we let him run all over and then he's in your backyard taking stuff."
While the punishment is unorthodox, Chief Deputy of the Valencia County Sheriff's Office Gary Hall doesn't think it's illegal. "I don't see anything that is abuse or negligent," he told KRQE. Deputies have been to the home three times in recent weeks, and have not observed anything criminal.
The Bogguses have had their son in the tent for two weeks so far, with plans to have him stay there for a month, unless he writes five book reports about being a respectable person. He comes indoors at night to sleep, but during the day he remains in the tent, where he is given food and water, He is allowed in the house to use the bathroom.
Jacob Boggus isn't concerned with the opinions of those in the community who disagree with his methods. "Anybody who wants to talk some sense into him is more than welcome. We're not trying to hide from this.'"
Have a tip we should know? [email protected]