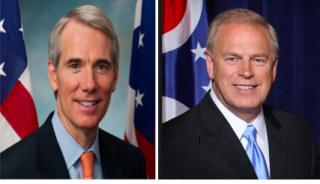 Outside groups — including politically active nonprofits like the Koch brothers' Americans for Prosperity — have spent more money trying to influence the 2016 Ohio Senate race between Republican Sen. Rob Portman and his challenger, Democrat Ted Strickland, than any other congressional contest: $15.5 million so far.
The RealClearPolitics polling average currently has the candidates in a statistical dead heat: 40 percent for Portman to 40.5 percent for Strickland, a former House member and onetime governor of the state. But in terms of outside spending, Portman's side has a formidable lead. Seven conservative groups have spent $11.5 million — almost $1.3 million supporting Portman and $10.3 million attacking Strickland.
On the other side, liberal groups have spent only $289,623 backing Strickland, and $3.65 million against Portman. And while they have spent three times as much attacking Portman as conservative groups have put into supporting him, conservative outside groups have laid out more than 35 times as much on anti-Strickland efforts as liberal groups have spent supporting him.
Why is there so much cash sloshing around the Buckeye State? Partly because, as a perennial swing state, Ohio is critical territory for both parties. Furthermore, although incumbents like Portman have an (often financial) advantage in winning re-election, he's up against a tough competitor. Strickland already has name recognition from his term as governor; he lost his re-election bid to failed presidential candidate and current Ohio Gov. John Kasich by just 2 percent in 2010.
In addition, conservative money could be flowing more freely because of fear on the part of the GOP establishment that the party's presumed presidential nominee,Donald Trump, will hurt the chances of down-ballot Republicans like Portman. If Trump loses to Democrat Hillary Clinton by a large margin in November, he will likely damage Republican chances of holding the Senate. According to the Brookings Institution, other races like the one in Ohio are heavily impacted by the outcome of the presidential race.
Clinton is beating Trump by just 1.4 percent in Ohio, according to the RealClearPolitics average. But Trump's numbers have begun to slip, according to the Washington Post, and if they continue to do so, there may be very real consequences for Republicans like Portman who seek re-election.
Dark money has played a much larger role in the Ohio Senate contest than average for the 2016 cycle. Across all races, dark money groups – 501(c)(4)s and (c)(6)s – have spent $37 million of the over $400 million spent so far, so about 9.2 percent of outside spending this cycle. Of the $15.5 million spent by outside groups in the Portman-Strickland faceoff, 23 percent has been spent by dark money 501(c) organizations — two-and-a-half times the cycle's average. Most of that has come from the coffers of the U.S. Chamber of Commerce, the national business lobbying group, and from Americans for Prosperity (AFP), the 501(c)(4) controlled by the Koch brothers.
Eighty-five percent of the $10.3 million that conservative groups have spent attacking Strickland has come from three groups: a super PAC, the Fighting for Ohio Fund; AFP; and another Koch-backed group, the super PAC Freedom Partners Action Fund.
The Koch brothers, through AFP and Freedom Partners, have spent more money – $5.5 million – trying to sway voters in Ohio than they have in any other race this cycle. The billionaires have said that their network of nonprofits will spend $250 to $300 million on politics during the current election cycle, but pledged not to involve themselves in the fight for the Republican presidential nomination. Instead, expenditures on the Ohio Senate race account for 46 percent of the money spent by these two major Koch organizations this cycle.
Like other 501(c) groups, AFP doesn't have to report its donors, making it a major source of dark money in the last two election cycles. In 2012, AFP spent $33.5 million on anti-Obama attack ads. So far this cycle, AFP has spent only $1.9 million to sway voters. About $1.7 million of that went for ads attacking Strickland. (The remaining $200,000 was spent on attacks against Trump-backed Rep. Renee Ellmers (R–N.C.), who lost her primary to fellow Republican Rep. George Holding.)
Freedom Partners Action Fund, the only super PAC that's explicitly part of the Koch network, has spent $3.75 million attacking Strickland. The super PAC, which is connected to Freedom Partners Chamber of Commerce, a major dark money 501(c)(6) in the Koch network, has also used $30,000 to attack Clinton, and $2.9 million to go after Katie McGinty, the Democrat challenging Sen. Pat Toomey (R) of Pennsylvania.
Another major anti-Strickland organization: the Fighting for Ohio Fund, which has spent $3.3 million against him. The super PAC has drawn $250,000 apiece from megadonors Paul Singer and Kenneth Griffin, and $400,000 from several members of the powerful Lindner family of Cincinnati. Fighting for Ohio has also received $500,000 from Freedom Vote, Inc., a 501(c)(4) outfit in Dayton, Ohio. Freedom Vote's executive director, James S. Nathanson, was linked to the 501(c)(4) Citizens for a Working America, which spent $2.4 million aiding conservatives during the 2012 cycle, including nearly $1 million benefiting GOP presidential nominee Mitt Romney.
On top of all this, significant amounts of dark money are being spent to help Portman but aren't being reported to the FEC. For instance, the Karl Rove affiliated dark money (c)(4) One Nation announced earlier this month that it has spent $6 million aiding Portman so far; none of it has shown up in the FEC's database. That's possible when a group frames its ads as "issue ads" that don't explicitly ask the public to vote for or against a candidate.
David Bergstein, communications director of the Strickland campaign, says that conservative groups are spending heavily because the rich donors who donate most to them have benefited from his policies. "Portman has been a consistent vote and voice for the rich and powerful, and they're spending a lot of money to try to keep him in Washington," Bergstein said in an interview with OpenSecrets Blog.
Portman's campaign didn't respond to requests for comment.
Strickland has also taken heavy fire from the gun lobby, which seems to view him as a sort of Benedict Arnold. In an ad for his 2010 gubernatorial re-election campaign, Strickland boasts of his "A+" rating from the National Rifle Association. But Strickland reversed his position on guns, either in 2012 after the Sandy Hook shootings or during his Senate primary, depending on whether you ask Strickland's aides or his Democratic primary challenger — and the NRA has punished him for it. The group's PAC has spent $393,000 against Strickland and another $216,000 backing Portman, who has an "A" rating from the group. The NRA's Institute for Legislative Action, a 501(c) group, has spent another $87,797 boosting Portman.
Most of the $3.9 million spent by liberal groups has come via a single super PAC,Senate Majority PAC. With over $2.5 million in spending, all directed against Rob Portman, the group accounts for about 65 percent of liberal outside spending in the general election for the Ohio Senate. Senate Majority PAC, organization, which has ties to Senate Minority Leader Harry Reid (D-Nev.) and other establishment Democrats, spent nearly $46.7 million during the 2014 cycle.
This cycle, it has invested $7.6 million so far, almost all of which has been used to attack Republican candidates. It has spent the biggest chunk of its funds – about $2.75 million – on attacks against incumbent Sen. Kelly Ayotte (R-N.H). But Portman comes in at No. 2 among targets of the super PAC. Senate Majority PAC's largest donor is James Simons, former chairman of hedge fund Renaissance Technologies; he has given $1.6 million. Other major donors include Fred Eychaner and George Marcus, who each gave $1 million, as well as Family Guy's Seth MacFarlane and director Stephen Spielberg.
Alec Goodwin a reporter with OpenSecrets.org, a non partisan and nonprofit organization that tracks money and politics. 
Have a tip we should know? [email protected]